About


When you work with Acme Monaco, you are assured top quality and professionalism. Your desire for precision is met by our computerized controlled production and Class A tooling, clean plant-wide operations and late-model equipment, guaranteeing consistently certifiable quality. We offer custom guidewires, archwires, medical grade springs, stampings, fourslide parts and wire forms. Our first priority is selecting a manufacturing method that ensures practicality and efficiency. Our engineering staff will assist you by offering cost effective manufacturing processes and product reliability. Our management team knows and respects the importance of professional confidentiality. It is paramount for the free and open discussions of parts and products that precede research, development and the making of prototypes. Our professionalism is the cornerstone of our operation.
Acme Monaco offers custom manufactured medical guidewires for catheter manufacturers or other OEM instrument manufacturers. Our guidewires are strong, resisting doubling back or kinking during the insertion and retraction procedures yet flexible enough to negotiate the desired tortuous path of the vascular system without damaging it. Our guidewires have a flexible and yet guidable distal tip, and a relatively stiff, strong elongated body portion. We also make an ultra-smooth optional outer surface which protects the patient and facilitates cleaning, thus minimizing the possibility of introducing potential toxic material to the patient's system.
Acme Monaco is a very high volume producer of complex wire components. So when it comes to stylets, we start with straightening processes to control the stiffness and torque response of the components. We use our extensive experience in custom wire manufacturing to give the stylets your required shape, utilizing automated assembly lines to make them reliable and highly cost competitive. Acme Monaco specializes in the design and manufacture of critically-precise, custom springs, coils and wire forms for medical equipment and applications. Engineered using our proprietary processes, our precision springs provide exceptional quality with high tolerance.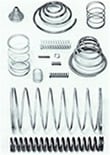 What makes our archwires so much better? To start, a consistency of shape. We have multiple levels of inspection to assure that the first archwire in your order is the same as the last. Of course, part of quality control is to assure that our wires are protected in inventory so that they maintain their shape in all three dimensions. When you consider these attributes and match them with stock or custom shapes, fast turnaround and reliable delivery, you can see how we became the world's largest manufacturer of Archwires.
While springs are often the least expensive part of your assembly, failure can bring costly machine downtime and product rejects. To assure higher quality and longer reliability, we offer a comprehensive Spring Design & Analysis System Program which evaluates physical and mechanical requirements, manufacturing feasibility and in-use predictability.
Supplier Directory Categories
Acme-Monaco is listed in these categories: