About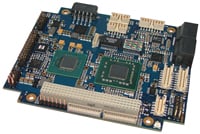 Founded in 1994, Advanced Digital Logic Inc. (ADL) is a privately held company with headquarters in San Diego, CA. Along with their newly opened European headquarters in Germany, (Advanced Digital Logic GmbH), ADL is now better positioned to support its customers on a global basis. They are one of the world's leading providers of embedded industrial single board computers, systems, peripherals and accessories for embedded and stand alone applications.
Their product lines include PC/104, PC/104-Plus, PCI-104, PCI/104-Express, 3.5" boards, and custom boards. Their wide range of high quality products, system integration expertise, technical sales, and customer support are rated to be first class by their customers. Their services include; standard and custom board designs, standard and custom thermal solutions for their products, integration services, custom system solutions and overall system testing.
The commitment of their experienced and well trained sales and engineering staff provide their customers with project planning assistance, specific application requirements, and can recommend the best integrated solution for a project. Their products are designed and manufactured under ISO 9001 with state-of-the-art equipment and tested during production at the factory. All computer boards and integrated systems are individually tested at ADL before shipping.
ADL serves customers in a variety of markets, including but not limited to; Military, Medical, Aerospace, Transportation, Communication, Security, Process Control, Science, etc.

They help their customers meet their "time to market" requirements by sharing their experience and dedication with them, and being fully aware that their success is directly tied to their customers' success.
Supplier Directory Categories
ADL Embedded Solutions is listed in these categories: