About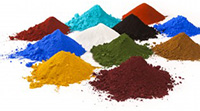 Alabama Pigments Company, LLC is a privately held business that is owned and operated by the Cobern Family. APC is one of the last companies in the United States that mines, processes, blends, and distributes natural red iron oxide pigments. Strategically located in Central Alabama, APC manages mine operations and production facilities for natural red and black iron oxide pigments. Since the beginning of our business APC maintains a strong commitment to serving our customers with quality, service and value.

With the continued support and success of our customers, APC has grown and diversified into a major importer of natural and synthetic iron oxides from around the world. From one product offered in 1993, APC now offers a complete line of color products, which include natural and synthetic fine grade pigments, micronized iron oxide pigments, custom blends, a full line of decorative concrete products, cobalt blues, TiO2, and APC GRANFLO low dust pigment. APC also has a line of agricultural products and offers toll production and packaging. Products are packaged from .25lb bags to 4000lb super sacks and bulk pneumatic tankers.

APC operates two factories, represented by multiple distributors and numerous warehouse locations, which help to ensure our customers continuous uninterrupted service. The corporate office and primary production facility is located on a 200 acre site in McCalla, Alabama.
Supplier Directory Categories
Alabama Pigments Company is listed in these categories: