About
The Alstom Advantage
100 Years of Experience + Solution-based Products & Services + Commitment to Customer Service
Alstom provides reliable delivery of products and services to meet the demands of the power industry. Alstom is a dedicated customer service organization that delivers the responsiveness their customers require - providing the quality and resources expected of an OEM. Alstom products are designed to help their customers meet the performance, availability and reliability requirements for their power plant equipment.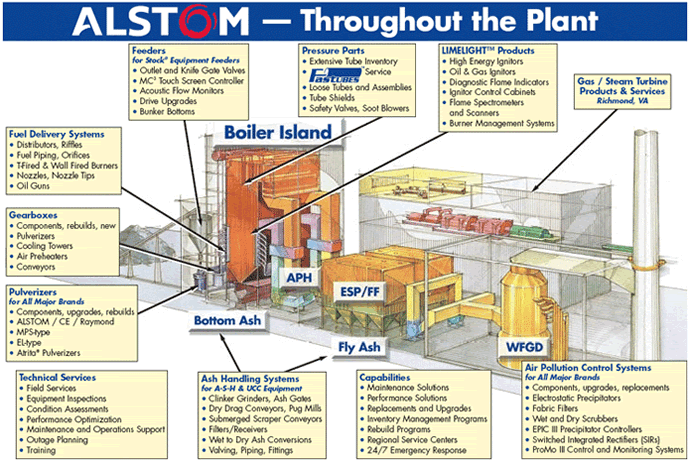 Markets Served
Alstom's experience and customer base include:
utility companies
regional electric cooperatives
federal, municipal power producers
independent power producers
pulp and paper companies industrials such as chemical plants, steel mills and refineries
Equipment Supported
In addition to Alstom equipment, they serve the following brands:
Coal Pulverizers & Mills
ABB, Combustion Engineering, Babcock & Wilcox, Riley Atrita, Foster Wheeler
Boilers/Steam Generators
ABB, Combustion Engineering, Babcock & Wilcox, Riley, and Foster Wheeler
Ash Handling Systems
ABB, Combustion Engineering, Allen-Sherman-Hoff, United Conveyor, Fläkt
Stokers
ABB, Combustion Engineering, Detroit Stoker, Riley, Westinghouse, Hoffman, Taylor
Coal Feeders
ABB, Combustion Engineering, Stock Equipment, Merrick Industries
Air Pollution Control
ABB, Combustion Engineering, Fläkt, Walther, Carborundum, Hamon-Research Cottrell, Wheelabrator, Peabody, Rockwell
Technical Services
Alstom's Technical Services capabilities cover major plant equipment and systems and include:
outage planning
equipment inspections
condition assessments
operational support
Inventory Management Programs
With Alstom's proven inventory management expertise, purchasing strength and strategically located regional service centers, participation in an Alstom Inventory Management Program can offer customers significant benefits – from guaranteed shipments to improved cash flow.
R3 Component Rotation Programs
Alstom offers customers a systematic method for rebuilding boiler related equipment and returning this equipment to service. Alstom's Regional Service Centers are the focus of this program combining their extensive experience, inventory, rebuild portfolio and proven processes to provide a unique service.
The R3 program is based on Rebuilding, Restocking and Replacing components.
Rebuild/Repair Services
As a leading supplier of quality power plant equipment and replacement parts, Alstom offers one of the industries most complete and cost-effective rebuild and repair services. Alstom's rebuild/repair services include component inspections and maintenance, replacement of worn parts and design upgrades. These offerings, which include extended warrantees, can reduce inventory costs by 25-35% and result in longer lasting products that save power producers money.

Supplier Directory Categories
GE & Alstom Power is listed in these categories: