About
Specializing in Inrush Current Limiting Thermistors for the Power Market Industry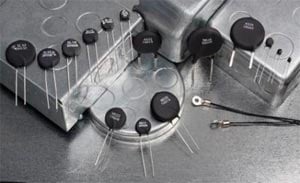 Ametherm, founded in 1994 and ISO 9000:2001certified, focuses on manufacturing inrush current limiting thermistors for the power market industry. Ametherm's products are some of the highest rated in the industry and provide the widest range of output protection available, supporting outputs from 50 to 7,500 watts and continuous currents from .25 to 50 amps.

With a focus on high quality and durability, Ametherm's products are found in applications including motor drives, soft start circuits, HVAC, switch mode power supplies, audio amplifiers, and medical X-ray equipment.
Ametherm's US based manufacturing plant, located in Carson City, Nevada, is equipped to process raw materials such as manganese, copper, cobalt and, nickel into the substrate materials that protect power supplies. The plant uses Lean manufacturing techniques for fast lead times and a wide selection, and its products are distributed worldwide.
Supplier Directory Categories
Technical Articles