About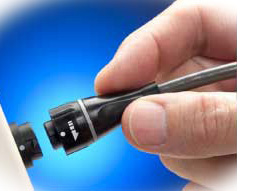 Amphenol Alden Products Company is a manufacturer of high performance connectors and cable assemblies for instrumentation applications. Designed to perform in an environment outside the shelter of the electronic enclosure, these interconnects are exposed to environmental and mechanical stresses that internal components and wiring never see.

Pulse-Lok® Auto-Coupling Connectors Are Intuitive, Affirmative & Ergonomic
Amphenol Alden's signature Pulse-Lok® coupling technology is the ideal solution for applications requiring quick, intuitive mating action and confirmation of contact engagement. These features become extremely useful in applications where there is poor access to the connector. In these blind-mate situations, the Pulse-Lok® connector's self-aligning keys, auto-latch coupler, and tactile mating feedback allow you to engage the connector pair with confidence. A simple turn of the coupling ring is all that it takes to disengage the connector pair later.

What You Can't See - Can Hurt
Often the issue is the number of connections. Modern factory automation installations can require thousands of connections. In this arena, installation time = $$$$. In an effort to speed up the process, conventional connectors are often cross threaded, misregistered or not fully engaged. Debugging these issues after the fact can be extremely costly. The quick-coupling Pulse-Lok® connector can drastically cut assembly time over conventional thread-on connectors as well as provide tactile, visual, and audible confirmation that the connectors are fully engaged. Whenever the end-user of your electronic device is required to make a connection. Pulse-Lok® keeps it simple.


Innovator - In addition to pioneering the insert molding process, Amphenol Alden has been awarded over fifty U.S. Patents covering ongoing innovations to connectors and cable assemblies. The scope of these improvements includes:
connector coupling technology
electrical contact technology
over-molded circuits
high voltage interconnect technology
connector assembly techniques
front- panel mounting methods
insert molded feedthroughs
intelligent cable systems
Today, with a third generation of Amphenol Alden at the helm, they consider their acuity at the development of "art to part" interconnect solutions to be unique in the industry. Alden's ability to rapidly meet their customer's specialized needs through modified standard products is unmatched. Amphenol Alden Products Company's commitment to collaborative engineering makes them the best choice for today's electronic manufacturers who need to get their products to market fast.
Learn About Amphenol Medical Solutions
For specialized medical applications, Amphenol Medical Solutions provides complete interconnect solutions ranging from critical components to performance-engineered cable assemblies and everything in between. AMS offers high density, high speed, high voltage, high power, EMI shielding options, flex circuitry and hybrid connections that can combine fiber, RF, copper, fluids and gases into a complete package. Visit them online at www.amphenolmedical.com.
Supplier Directory Categories
Amphenol Alden Products Company is listed in these categories: