About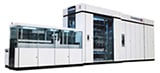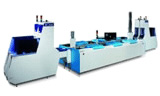 Amtech Systems Inc. manufactures capital equipment, including silicon wafer handling automation, thermal processing, PSG and PECVD (plasma-enhanced chemical vapor deposition) equipment and related consumables used in fabricating solar cells and semiconductor devices.

Amtech is a leading supplier of horizontal diffusion furnace systems, related automation and polishing supplies that enable key steps of the front end manufacturing process for both solar cells and semiconductor chips.

Amtech's products are recognized under the leading brand names: Tempress Systems™, Bruce Technologies™, BTU™, P.R. Hoffman™, SoLayTec™ and R2D automation™ and are sold to a large and diverse worldwide customer base that consists primarily of manufacturers of solar cells, integrated circuits, electronics assemblies and silicon wafers.

Amtech is leveraging its proven technology, established brands and strong industry presence to further expand its penetration into the large and growing solar cell market as a technology turnkey product supplier to the diffusion, PSG and PECVD solar markets.
Supplier Directory Categories
Amtech Systems, Inc. is listed in these categories: