About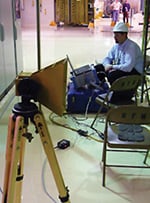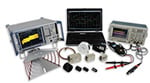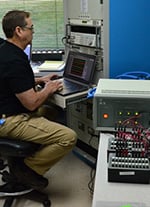 Analysis and Measurement Services Corporation (AMS) is a recognized market leader in providing the worldwide nuclear power industry with equipment, training, and services to verify the performance of process instrumentation and Control (I&C) Systems. The AMS campus spans over 100,000 square feet of office, laboratory and expansion space staffed by highly qualified specialists with degrees in electrical, mechanical, nuclear, chemical, computer and material engineering.
AMS is staffed by highly qualified specialists and consultants with degrees in electrical, mechanical, chemical, computer, industrial, nuclear, and aerospace engineering. Approximately 70 percent of the company's activities are dedicated to performing commercial field measurements and instrumentation diagnostics in nuclear power plants, including testing of plant temperature sensors, pressure sensors, nuclear instrumentation, and cables and connectors to verify that technical specifications are met and to monitor for degradation or problems.
AMS' testing facilities include:
• State-of-the-art EMC and instrument precision calibration laboratory with direct traceability to the National Institute of Standards and Technology (NIST)
• Cable testing laboratory equipped with temperature conditioning and heat-treating furnaces, an environmental chamber, and a specialized cable condition monitoring equipment capable of TDR, FDR, IR, LCR and other electrical characteristics tests
• Temperature sensor response time testing facility with pressure sensor response time testing equipment
• An environmental chamber
• An experimental fluid test loop
• Software development laboratory
• Machine shop and equipment manufacturing and repair facility
• Advanced software packages
• Dedicated algorithms for data collection
• Data acquisition systems
• Digital oscilloscopes
• Hydraulic and pneumatic test loops
• A complete set of nuclear power plant instrumentation cabinets
• Extensive computing, networking, and video conferencing capabilities
• Comprehensive technical library
AMS is the nuclear industry's first choice for instrumentation and control system testing equipment, training, and services. We provide the worldwide nuclear industry with products and services to measure I&C performance and verify compliance with technical specifications and regulatory requirements. We work in all U.S. nuclear power plants and many in Europe and Asia. AMS products and services cover a wide range from in-situ measurement of dynamic performance of I&C sensors to rod control system diagnostics, digital I&C equipment qualification, wireless technology implementation for equipment condition monitoring, cable testing, management of aging of critical plant equipment, online calibration monitoring of process sensors, computer-aided testing, and development of specialized data acquisition equipment and data analysis algorithms in support of reactor operation and maintenance.
Supplier Directory Categories
Analysis and Measurement Services Corporation (AMS) is listed in these categories: