About

Anoison is committed to the design and manufacture of high quality RF and Microwave components. These include: RF Coaxial Connectors/Adapters, RF Cable Assemblies and RF Terminations for applications in the Data/Telecom, Commercial and Military markets.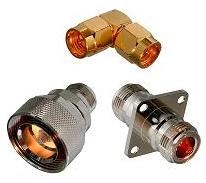 Anoison recognizes that providing high quality, reliable products is the primary factor in gaining the respect and confidence of our customers. When it comes to providing high quality products and services, we take this responsibility very seriously, always striving to provide the industry's best cost-performance ratio.

Anoison has attracted an outstanding team of RF/Microwave engineers, assembled from the most respected professionals in the industry. They have many years of experience in the research and development of RF/Microwave components for Military, Commercial and Aerospace applications. Their knowledge and expertise has, from the beginning, allowed Anoison to occupy an elite position of technical competence within the RF/Microwave industry.

With strong technical capabilities, an advanced corporate culture, and a dynamic business strategy, all of these have combined to establish the foundation for Anoison's growth and success.
Mission Statement
Our mission is to become an industry leading solutions provider for RF/Microwave connectivity
We are committed to providing exceptional service and value to our customers, while at the same time, continuing to grow and develop
We lead through innovation and outstanding product performance
We define excellence and we deliver
Core Values

Every policy and standard set by Anoison has our core values as their foundation. As such, they directly influence every aspect of our business, from innovation to execution.
Integrity
Our most fundamental objective has always been to show honesty in our words and ethics in our actions. As a result, we have been able to win the trust and respect of our customers, our partners, our colleagues and our community.


Pursuit of Excellence
We will spare no effort in our attempt to attain perfection in every detail of our work. While in our communication and interaction with others, we will strive to show all those we come into contact with our best face. In addition, we seek to embody a spirit of fairness and equitability, professionalism, precision, self-discipline, perseverance and team work.


Customer Orientation
We promote a customer oriented culture requiring that every level of our organization, from product design and quality control, to delivery and service, carry out this promise: we will meet our customers' demands.


Persistent Development
We are firmly committed to product development and dynamic business management in order to be constantly moving forward and creating greater and greater benefits for all of our customers, partners, colleagues and community.
Supplier Directory Categories
Anoison Electronics is listed in these categories: