About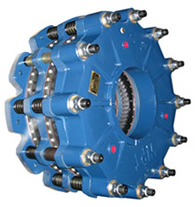 Applied Power Solutions, Inc. keeps you operating smoothly with the industrial components you need. They feature industrial clutch and industrial brake systems from manufacturers like Eaton Airflex, WPT, Warner Electric, Formsprag, Desch, Matrix, PowerFlo, and Dellner. Their Eaton Airflex CB and Eaton Airflex VC clutches are perfect for high torque applications in a variety of industries. All of their Eaton clutches are of the highest quality; Eaton Airflex is one of the most respected names in the brake and clutch industry.
Count on Applied Power Solutions, Inc. to help you find the perfect Eaton components for your industrial brakes and clutches. You can count on their excellent reputation knowing that your parts will last as long as possible. Their Warner Electric clutches are perfectly suited to light to medium tension applications. Furthermore, their line of WPT brakes and clutches meet stringent guidelines for quality and reliability and serve as durable replacements or alternatives to Wichita-style brakes and clutches.

Applied Power Solutions, Inc. also carries other industrial components like valves, quick release valves, regulators, lubricators, gearboxes, couplings, pressure switches, press brake controls, safety light curtains, ergonomic palm buttons, and safety mat systems, among many others. Their selection includes Norgren valves, regulators and lubricators, as well as products from Eaton, Transfluid, Desch, Formsprag, Boston Gear, Kamco, Triad, Pinnacle, and Pressroom Electronics.

Additionally, Applied Power Solutions can maintain and repair nearly everything they sell. Contact them at 888.APS.9901 to speak with one of their knowledgeable representatives for more information regarding these services. To learn more about how working with Applied Power Solutions saves you time and money visit their website.
Supplier Directory Categories
Applied Power Solutions, Inc. is listed in these categories: