About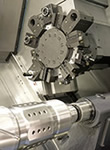 Since 1953, Ashland has designed and produced several thousand versions of its high performance motors, fans and blowers for commercial, industrial and military applications and has earned a reputation for performance, quality and on time delivery. Ashland is committed to provide on time delivery of quality products designed to meet customer requirements. Our engineering staff is available to discuss specific customer needs and provide solutions to application problems.
Ashland operates out of a 20,000 square foot manufacturing and office facility located in the Ten Rod Road Industrial Park in Rochester, NH. Heavily vertically integrated Ashland manufactures the majority of our product and components in house. These capabilities allow Ashland to offer many value added services to meet demanding customer and end user requirements.


Our experienced engineering team is available for a variety of services. Whether confirmation of existing designs, choosing and specifying a motor or fan for a particular application or a complete custom design is required, our engineers will provide effective solutions for demanding motor and fan requirements. Airflow and performance measurement capabilities to several AMCA 210 configurations are available as well as determination of requirements for environmental and additional specified testing. Reverse engineering of specialty motor and air movers is available as well as performance testing and verification.
In addition to supporting our legacy products Ashland offers rewind services, scheduled maintenance, equipment evaluation and overhaul for specialty fans and motors. Based on the specific nature of our business as an OEM we are unable to offer motor repair for standard commercial off the shelf items and household items.
Ashland's considerable manufacturing capabilities include precision CNC Machining, sheet metal fabrication and assembly. Automatic and custom winding equipment allow for flexibility and short lead times. CAD/CAM programming as well as our extensive manufacturing and rotating equipment experience allow for the delivery of quality custom products in a timely manner.
Supplier Directory Categories
Ashland Electric Products, Inc. is listed in these categories: