About


BASCO has been the industry leader in industrial packaging and container products for over 64 years. They take pride in their extensive product knowledge and customer service; their sales representatives will go above and beyond to be sure that you receive the perfect product to resolve your container, packaging and handling equipment needs the first time, every time.
BASCO's diverse range of packaging and container products ensures that you can select from a wide variety of alternative solutions for your application. Their products range from fluid storage containers, metal pails, fluid handling accessories, storage equipment, and many more container and packaging products.
BASCO offers industrial packaging equipment, supplies and parts to thousands of customers in North and South America, Europe and the Middle East. They have a strong regional presence as a distributor of industrial packaging: drums, pails, bottles, cans, cartons, filter bags/cartridges, and shipping room supplies. Their customers include major manufacturers of chemicals, coatings, lubricants, inks, and food products, as well as users of those products. They also supply component parts, such as closures and gaskets, to most of the manufacturers and reconditioners of drums and pails in the U.S. and Canada.

Since 1946, container products have been BASCO's only business. This adds value and sets them apart from other companies that sell only a few of the same items. Their 416-page full color catalog presents over 5,000 products, including many unusual and hard-to-find items. Each product is selected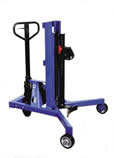 for its utility and uniqueness.
BASCO knows more about their products and their applications than anyone else. This assures their customers that they will always get the right product for the job, without compromise. Unlike non-specialized distributors and catalog houses, their Customer Service Representatives are specially trained to match their customers' needs with the best product available. This guarantees that they consistently deliver the high level of personal service that is their real product, and their customers know that their prices are competitive with any ordinary catalog distributor or supply house.

See Basco's current Smart Buy Specials and the Container Express for the latest industry news.
Supplier Directory Categories
BASCO, Inc. is listed in these categories:
Technical Articles

Hazmat Packaging Guide
(Storage and Containers)
References for all Hazardous Materials Performance Packaging Standards and Tests can be found in the Code of Federal Regulations, Title 49, Part 178. (
View Full Article
)

The Truth about Salvage Drums
(Storage and Containers)
There is confusion in the marketplace regarding Salvage Drums. The term "Overpack" has become synonymous with "Salvage Drum" in recent years and there are several new products on the market, which... (
View Full Article
)