About

Bayside Motion is one of the leading innovators within the motion control industry.

Through solid engineering programs, Bayside Motion manufactured products continue to drive motion control standards. Bayside Motion product lines include: linear positioning systems, servo motors & drives and precision gearmotors/gearheads. Bayside Motion products are used in a wide range of industries including fiber optics, semiconductor, bio-medical, packaging and aerospace. Whether Engineers need a single component or a total solution, Bayside Motion offers design flexibility and high quality in readily available products.
Electromechanical Automation, a division of Parker Hannifin, is a pioneer, developer and JIT manufacturer of automation equipment for precision motion control applications and differentiates itself by offering high levels of customer service, exceptional quality and short lead times.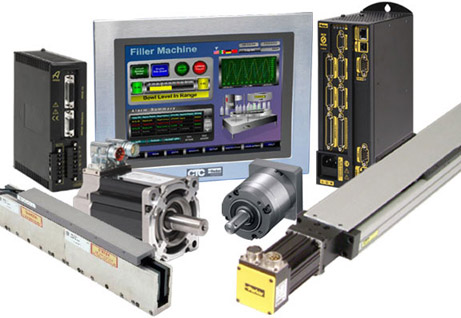 Products include the following:
Rotary and Linear Servo Motors
Utilizing modern design tools, Electromechanical Automation's full line of brushless servo motors offer performance advantages over more traditional design practices. Designs also focus on manufacturing ease that allows lead times of less than 10 days and accommodation of special requirements with ease.
Servo Drives and Drive/Controllers
Electromechanical Automation servo systems offer power and diversity in a multitude of form factors. Electromechanical Automation offers a wide range of drives for all your motion needs, as well as convenient drive/controller packages.
Stepper Drive and Drive/Controllers
Parker Hannifin/Electromechanical Automation pioneered microstepping techniques to electronically improve the smoothness and resolution of step motors. This leadership continues with a complete range of products in every price and performance range.
Controllers
Whether an application is simple or complex, there is a Electromechanical Automation controller that can efficiently handle it. These servo or stepper controllers operate stand alone as the machine controller or interface with other devices such as a PC or PLC utilizing Ethernet and various Fieldbuses for high-speed communications. Programming is facilitated by state-of-the-art software and programming tools.
Human-Machine Interfaces
As a pioneer in the HMI industry, Parker understands the needs of automation users and translates those needs into innovative product solutions. Today, their products offer a full range of both software and hardware HMI solutions including: Human- Machine Interfaces, PC-Based Logic Controllers, Industrial PCs, and monitors.
Complete Solutions
Electromechanical Automation systems are offered at Selectable Levels of Integration ranging from components to complete motion systems that include motors, drives, controls, and machine interfaces. The advantages associated with different solutions include ease of operation, ease of integration, proven reliability and dependable performance.

Systems
Machine builders and OEMs often choose to integrate a complete electromechnical system into their machines. They have confidence in knowing that Parker Hannifin/Electromechanical Automation's knowledge, experience and support will ensure that their automation goals are met.
Minimum design engineering
Ensured component compatibility
Single-source supply
Subsystems
Electromechanical Automation electrical subsystems are often utilized by OEMs and integrators who want to ensure that all the motion elements of their machine work well together. Critical issues are machine functionality, timing and connectivity.
Reduced design engineering tasks
Straightforward integration and connectivity
Single source for technical support
Parker Hannifin/Electromechanical Automation Products
Electromechanical Automation offers the broadest range of electronic motion control products available for automation systems. The innovative and easy-to-use products are easily integrated into most designs.
Short lead time
Proven reliability
Ease of use
Applications Support
Electromechanical Automation motion control products are delivered and supported through a comprehensive worldwide network of Automation Technology Centers (ATCs) that specialize in the application of high-technology automation equipment. ATCs offer local product availability, product demonstrations, programming assistance, system integration, local customer training and complementary products and services.

Parker's Electromechnical Territory Managers
Electromechanical Territory Managers (ETMs) representing all the Parker electromechanical divisions work in conjunction with local ATCs and are ready to offer you assistance and provide direct factory contact.

Toll-Free Applications Engineering Assistance
A staff of engineers is available by phone and has practical field experience and is prepared to provide you with the application and product assistance throughout the stages of your project and for the life of the product.

Web site
Complete technical assistance and additional product information can be found on the web. The Parker Hanninfin/Electromechanical Automation site is continually updated to provide the latest information on current products, new product introductions, literature and support.
Complete product catalog
Product selection/configuration with Wizards
Free downloadable software
FAQ database
Application examples
Engineering reference guide
Product user guides and DXF files
Links to other Parker divisions and related sites
Supplier Directory Categories
Bayside Motion / Trilogy Motors - Brands of Parker Hannifin Electromechanical is listed in these categories: