About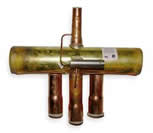 We are a leading residential and commercial distributor of Heating and air conditioning parts and supplies for most all brands of residential and commercial equipment. We are here to help you keep your heating and Air Conditioning equipment running at its peak performance by supplying only genuine brand name replacement parts and supplies.
Founded on good old fashion service and knowledge, BestBuyHeatingAndAirConditioning.com is focused on helping its customers complete their job successfully by providing them with the right product at the right time with the right information. We help our customers find the right products at competitive prices, backed by superior customer service and reliable information, is why customers turn to BestBuyHeatingAndAirConditioning.com each day 7 days a week 24 hours a day ordering parts and supplies online.
At BestBuyHeatingAndAirConditioning.com, we believe that the more you know about us, the more you will do business with us, whether you are a residential customer or a commercial customer, by the way our web site is designed you can gain a deeper understanding of our company focus to our customers.
Supplier Directory Categories
BestBuyHeatingandAirConditioning.com is listed in these categories: