About
Engineered Advanced Industrial Ceramics in Alumina, Silicon Carbide, Fused Silica, Mullite, & Zircon
An Employee Owned Company that offers technically advanced industrial ceramics, including Alumina, Silicon Carbide (Reaction Bonded, Recrystallized, Nitride and Oxide Bonded), Fused Silcia, Mullite, Zirconia, and Aluminum Titanate, for industries including Metallurgy, Heat Treat, Power Generation, Glass, Mining and Petro and Chemical Process, with products such as ferrules, crucibles and nozzles.
Founded in 1979, Blasch Precision Ceramics, Inc. is an Albany, NY based manufacturing company. Blasch produces and markets net shape ceramic and refractory components to a wide variety of industrial markets worldwide. During the 1980's, the components produced by Blasch were consumed primarily by the metallurgical industry, where operating environments require resistance to corrosion, erosion, and chemical reaction at high temperatures and pressures. During the 1990's, Blasch began to diversify into other industrial areas having similar operating environments. These industries include the chemical, petro-chemical, process heating, power generation, and air purification markets. Blasch specialties include:
General Problem Solving
Need Help? Have a Blasch technical expert solve your industrial ceramic dilemma. Blasch Precision Ceramics offers a technical hotline, request for a call back; an application/materials expert locator and staff contact information so that you can contact the specific technician that can solve your problem. We also allow our customers the luxury of many engineering services that include hands-on installation assistance, aid in product and/or system design, as well as material testing and toll firing services.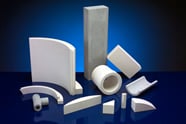 Altron
Alumina bonded silicon carbide is designed for exceptional wear and corrosion resistance. It can be formed into very intricate and precise shapes with the Blasch process. It has desirable refractory and chemical properties. It also exhibits exceptional oxidation and thermal shock resistance. Markets that widely use this type of material include, but are not limited to:
Mining
Industrial Process & Heating
Pulp & Paper
Chemical
Petrochemical
PowerGen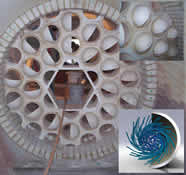 VectorWall™
The Blasch VectorWall™ increases capacity and lowers the operation and maintenance costs of medium and large diameter high temperature reaction chambers such as those used in Claus sulfur recovery units. This is accomplished by altering the reactant flow path creating significant mixing within the chamber thereby optimizing use of the available volume within the chamber. The VectorWall™ employs Blasch's patented HexWall™ technology as a stable and reliable foundation for use even in oxygen enriched environments. The VectorWall™ can be configured for a variety of new flow regimes including tangential vortex flow. Benefits include:
Better process yield immediately.
More consistent performance over time.
More complete destruction of ammonia and amines.
Fewer process upsets.
Increase capacity without capital equipment.
Supplier Directory Categories
Blasch Precision Ceramics is listed in these categories: