About
Bluebeam's Mission
Bluebeam Software develops smart, simple PDF solutions. Their goal is to make it faster and easier for desktop and tablet PC users to create, markup and edit high quality PDFs.
Company History


Bluebeam's powerful technology was originally developed in 1997 for the aerospace industry to allow engineering firms to quickly create and share accurate PDFs from their CAD files. Since then, Bluebeam has expanded into providing PDF creation, viewing, markup and editing solutions to the AEC industry, Fortune 500 companies, leading law firms and pharmaceutical organizations.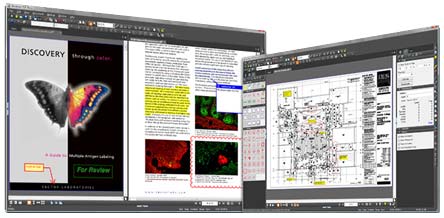 Bluebeam PDF Revu®
Simplifying the way you create, markup, edit and share your PDF files.
Professionals today need an efficient PDF solution for communicating information, sharing ideas and handling the huge amount of documents required for each project. Bluebeam PDF Revu combines reliable PDF creation with an intuitive PDF editor, viewer and markup tool. Bluebeam offers a complete toolset for professionals to review designs and edit documents electronically. Their tools are powerful yet simple to use and offer the flexibility you need to work efficiently.
Features
PDF Markup

Bluebeam exclusive! Create and save your most commonly used markups in the Tool Chest
Rotate markups 360 degrees to place them exactly where you want
Easily customize your markup by selecting color, font, line thickness and more
Manage markups in a convenient list that can be filtered, searched, imported and exported
Add custom columns to the markup list and add information you need for each markup
View document property data and save custom property data in the PDF file
Dim the background to view PDF markups easier

Document Reviewing

Proofread documents with Advanced Text tools that quickly and easily edit, underline, highlight or strikethrough text in PDF files
View multiple PDFs at once (up to 16!) and zoom and pan in unison with Bluebeam's exclusive MultiView™ and Sync™ technologies
Automatically highlight the differences between two PDF CAD drawings or other PDF documents

Tablet PC
Bluebeam includes features specifically designed for Tablet OS users who are looking for a quick and easy way to review and annotate PDF files with the ease of their Tablet PC pen.

One-Button Creation
After installation, Bluebeam will integrate into your MS Office, AutoCAD and SolidWorks programs and install buttons at the top of your interface. The first button converts your active Office document, SolidWorks file or DWG to PDF from your interface. Bluebeam PDF Revu will launch your PDF and allow for markup and editing.

PDF Navigation

PDF filenames are displayed in tabs so you can easily switch between open PDF files
Quickly zoom or scroll using the center mouse wheel, and double click the center mouse wheel to fit to page
Click and hold the left mouse button then move your mouse to pan around the PDF

PDF Editing

Add and delete text, change fonts, size and layout
Insert, reorder, delete and copy pages in a PDF file
Permanently delete text and images with PDF redaction
Add customized headers and footers with dates, page numbers and Bates stamps
Replace and rotate pages in a PDF file
Combine PDF files into a single PDF

Advanced Markup and Editing

Add digital signatures, certify documents and validate signatures in Revu
Measure length, area, volume, perimeter and angles and count from PDF drawings
Add file attachments to PDFs that open by double clicking an icon in the document
Add bookmarks to PDF files and easily reorder bookmarks with drag and drop functionality

Online Search
Bluebeam's exclusive new Webtab™ integrates a full web browser giving you direct access to the web within Revu. Search online for PDF brochures, online PDF catalogs and other documents and view them in Revu. Copy, paste and assemble the PDF documents to produce a new PDF file, ready for distribution.

Batch Processing
Batch processing capabilities in Revu allow you to select an unlimited number of files to:

Print documents
Apply headers and footers
Flatten markups
Compare documents
Create PDFs
Supplier Directory Categories
Bluebeam Software, Inc. is listed in these categories: