About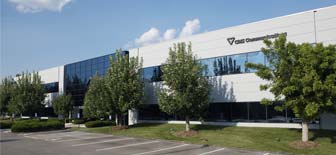 An Industry Leader for Over 24 Years.
Since 1985 CMS Communications, Inc. has earned a reputation for delivering competitively priced high quality new and refurbished voice and data products, advanced IP and Hybrid telephone systems and superior technical support. Headquartered in Chesterfield, Missouri, just west of metropolitan St. Louis, CMS occupies a 44,000 square foot state-of-the-art corporate office, warehouse and repair facility. Their warehouse holds over $2.0M of ready to ship new and refurbished voice and data components.
CMS also maintains strategic logistical locations in California, Colorado, Texas, Illinois, New Jersey, New York, Maryland and Virginia. Combined with their headquarters and partners, ShoreTel and NEC Unified Solutions, CMS has a strong competitive advantage for distributing and providing communication solutions for their customers.
New and Refurbished Telecommunication and Data Equipment Distribution.
As a member of the industries governing bodies, the North American Telecommunications Dealers (NATD) and the International Association of Telecommunications Dealers (IATD), CMS maintains the highest industry standards. CMS offers flexible, cost effective products, including new and refurbished parts for existing phone systems and data networks, repair services, asset recovery services, and accessories from conference phones to headsets.
The company's refurbished equipment, which is recycled, means no greenhouse gasses are emitted in producing the product and no natural resources are consumed to produce it. Also, instead of disposing of this equipment in landfills, it is being reused. There is no better way to go "green" than to use CMS recycled and refurbished equipment.
CMS supports a diverse nationwide customer base including many Fortune 1000 companies and organizations in major vertical industries such as healthcare, education, and hospitality. CMS is proud to hold GSA Schedule 70, contract # GS-35F-0295N providing remanufactured and refurbished telecommunications and data equipment for purchase by qualifying government institutions.
CMS provides turnkey IP and Hybrid telephone systems. This includes complete system and network design, project management, user training and customized post warranty support contracts. From VOIP telephones to network parts to entire systems, CMS has your business covered.
Professional Affiliations and Accreditations include:
North American Telecommunications Dealers (NATD)
International Association of Telecommunications Dealers (IATD)
United Network Equipment Dealer Association (UNEDA)
ShoreTel - World Class Customer Satisfaction Award 2009 – Certified Orange Partner Award 2009
NEC – Double Diamond Partner 2007, 2008 and 2009
Certified Polycom Wireless Solutions VOIP Reseller
Plantronics Authorized Partner
Supplier Directory Categories
CMS Communications, Inc. is listed in these categories: