About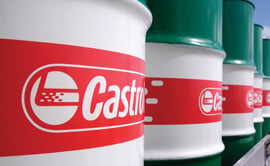 Industrial Lubricants & Services…shaping technology
Castrol Industrial, part of BP's Refining & Marketing division, is a leading global player in its own right, supplying the equipment manufacturing and industrial maintenance industries with a unique and diverse range of essential products and technical support services.
Every day, we harness our unrivalled knowledge and expertise in high performance lubricants and metalworking fluids – and share best practice with our customers.
Around the world, we work with our customers to introduce and exploit all the benefits of improved process efficiencies. To support this, we maintain strategically located technology centres as well as machining test centres in Asia, Europe and North America.
Our offers include a wide range of product support services to boost performance and profitability across different customer locations and manufacturing sites.
We understand the challenges of implementing the right processes in the right places. For the maximum convenience of our customers, we operate from a broad network of sales and support locations and channels.
Supplier Directory Categories
Castrol Industrial North America, Inc. is also listed in these categories: