About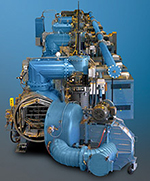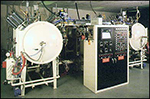 Centorr/Vacuum Industries is a vacuum furnace manufacturer based in Nashua, NH. They have achieved their position of technical leadership in the advanced design high-temperature vacuum furnaces and control atmosphere furnaces by delivering innovative solutions to challenging high temperature materials processing problems. With over 6,000 systems installed, Centorr Vacuum Industries has an established reputation for supplying advanced design high-temperature vacuum and controlled environment processing equipment which is expertly crafted and field-proven for dependable operation.
Standard vacuum furnaces are available for high temperature sintering, hot pressing for powder compaction or diffusion bonding, vacuum heat treating, precision vacuum brazing, and thermal heat treatment. These designs are augmented by specialized, custom-designed vacuum furnaces for chemical vapor deposition, Graphitization, Graphite Purification, and induction melting. These techniques and processes are used worldwide for a wide range of metal and ceramic materials at various stages during conversion from raw materials to finished product.
Centorr/Vacuum Industries' manufacturing facilities have been repeatedly expanded and now include a group of integrated shops staffed and equipped for machining, metal forming, fabricating, electro-mechanical assembling, and operational testing of complete furnace and related processing systems. Centorr/Vacuum Industries' Applied Technology Center is staffed with a graduate ceramic engineer and technician. The lab is equipped with five high-temperature furnaces, and various metallographic support equipment to permit analysis and evaluation of a client's process requirements.
Supplier Directory Categories
Centorr Vacuum Industries, Inc. is listed in these categories: