About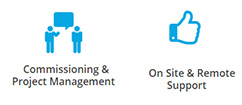 CSD was founded in 1977, the same year that the Allen Bradley Company launched the PLC2 programmable logic controller; one of the earliest production model PLC's on the market. It was only nine years earlier that General Motors commissioned the very first computer automated machine. CSD has been on the cutting edge of automation technologies ever since.
At CSD we have decades of experience fabricating industrial control systems. Whether it's our design or yours, CSD is equipped to assemble and wire all types of control panels. Our 6000 square foot facility gives us ample space to manufacture a multitude of systems simultaneously. Coupled with the skill and experience of our talented technicians we are confident we can exceed your needs. CSD is equipped with precision fabrication equipment; including plasma cutting tools. Using plasma cutting technology we are able to make precision cutouts even in the toughest of materials; like heavy gauge stainless steel.
At CSD our goal is to help increase your productivity by increasing efficiency, managing manpower, and minimizing downtime while Putting You in Control of Tomorrow's Technology. We will work with you to define, design, integrate, and commission innovative systems for a full spectrum of applications. Our attention to each customer's unique project requirements challenges us repeatedly to find new and better automation solutions.
Because CSD is not locked into specific brands or control disciplines, we actively seek out innovative hardware and software solutions that will not just meet but exceed your current requirements. Our goal is to insure that you have a cost-effective solution for today's requirements, which will serve you in the future; as your requirements change and current technology develops.
We are not a one trick pony and we realize that you aren't either. We are confident in our experience in a multitude of different types of systems. CSD recognizes that a lot of applications in industry today, are made up of many diverse processes; incorporating an array of diverse automation products. We are prepared to overcome the challenges of integrating an eclectic array of components, protocols, and systems.
Engineering excellence, manufacturing quality, and exemplary service are hallmarks of CSD. We have a highly skilled group of engineers and technicians. They are extremely knowledgeable; possessing the expertise and experience to quickly deliver solutions that meet our customer's demands. While the past is what has built our reputation, it's the future that continues to drive us.
Supplier Directory Categories
Control Systems Design is listed in these categories: