About

Daikin America is a leading global supplier of PTFE molding and fine powders and dispersions. Daikin also specializes in FEP, PFA, ETFE, PCTFE, EFEP, fluoroelastomers and Unidyne oil and grease repellents.
Daikin America is dedicated to a corporate tradition of building long-term relationships with their customers and communities. The parent company, Daikin Industries, Ltd., dates from 1924 when it was founded in Osaka, Japan to manufacture heat exchanger components. Their involvement with chemicals began in 1933 when they initiated research in fluorocarbon refrigerants. Through decades of rapid growth, Daikin has become Japan's top-ranking producer of fluorochemicals including fluoropolymers and fluoroelastomers.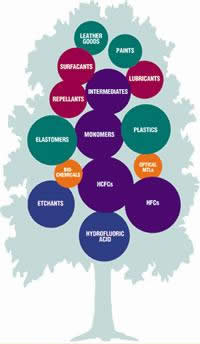 As specialists in fluorine chemistry, Daikin Industries Ltd. produces many products starting with the manufacture of HF through a variety of finished products.
Today, Daikin's Chemical Division has earned a worldwide reputation for quality products. Beyond Japan, Daikin has established major new production facilities in the U.S., France, Belgium and its newest state of the art facility in Changshu, China with branch offices around the world. These expansions, a result of their outstanding success and acceptance by the market, ensure the continuing globalization of Daikin.
Commitment to a physical presence in the U.S. began in the early '90s with a $150 million initial investment in state-of-the-art HCFC-22, TFE and HFP monomer and PTFE manufacturing facilities in Decatur, Alabama.
The next phase of the American presence was a $60 million expansion of the Decatur plant to manufacture FEP and ETFE in 1995. Daikin then invested to manufacture Unidyne Fabric and Carpet Protectant in 2000.
All along, Daikin has been expanding the capacity of the original investments. This expansion is a further significant sign of the depth of their commitment to a long-term presence in the United States.
In October 2004, Daikin America acquired CRI-TECH, Inc., which will continue to supply its customers with world-class quality FKM compounds. Cri-Tech's continuing commitment to FKM formulating and compounding excellence fits perfectly into Daikin America's strategy and complements its strength in FKM technology.
Daikin is committed to good corporate citizenship, providing new employment opportunities at their various sites. The company also makes every effort to contribute materially to the well being of all aspects of the communities in which they work and live.
Supplier Directory Categories
Daikin America, Inc. is also listed in these categories: