Profile Home
About
Data Device Corporation
Connectivity | Power | Control
Data Device Corporation (DDC) is a world leader in the design and manufacture of high-reliability Connectivity, Power and Control solutions (Data Networking; Power Distribution, Control and Conversion; Motor Control and Motion Feedback) for aerospace, defense, and industrial applications. With awards for quality, delivery, and support, DDC has served industry as a trusted resource for more than 50 years… providing proven solutions that are optimized for efficiency, reliability and performance. Data Device Corporation brands include DDC, Beta Transformer Technology Corporation, National Hybrid Inc., Pascall Electronics Ltd., and XCEL Power Systems Ltd. DDC is headquartered in Bohemia, NY and has manufacturing operations in New York, Mexico, and the United Kingdom.
Connectivity
Optimized High Reliability Data Bus & Network Technology
Leader in MIL-STD-1553 & ARINC 429...Offers Processor Based Solutions for Protocol Bridging Applications
DDC is the market leader in data bus solutions for MIL-STD-1553/1760, ARINC 429, AFDX®/ARINC 664, Fibre Channel, Ethernet, CANbus, Serial I/O and other protocols.
Maximize system performance with the most advanced data bus components
Utilize the most compact cards to optimize SWaP constrained systems
Access and test avionics systems from anywhere on an Ethernet network
Minimize development time with advanced software tools and automated code generation
Power
Complete Power Solutions...Power Supplies, Controllers & Drives
Industry Leader in Power Control for... Current & Next Generation Military Vehicles
DDC supplies high-reliability Power Supplies and Solid-State Power Controllers for custom & standard applications. DDC Solid-State Power Controllers (SSPCs) enable land, sea, air and space vehicle systems to utilize and distribute power more efficiently and reliably, resulting in more power availability with less fuel consumption or heat dissipation. By replacing electromechanical switches, relays and circuit breakers, systems upgraded and/or newly designed with SSPCs enjoy the benefits of:
Much greater Reliability and load protection
More Efficiency through power usage with automated load shedding
More Performance through operator control with programmable user interface
More Performance through reduced weight, size and power dissipation
Control
The Highest Performance Motor Control & Position Feedback Technology
Off-the-Shelf & Custom Motion Control Solutions for Your Most Demanding Applications
DDC is a market leader in high reliability motor control and synchro/resolver positioning solutions for aerospace, military and industrial environments. Our products deliver high accuracy positioning and dependability, while being cost effective solutions, to provide... Much greater Reliability and load protection
COTS/MOTS solutions for synchro/resolver feedback, and motor drive and control
High accuracy position feedback
High-performance controllers and drives for 3-phase brushless DC motors
DDC designs and manufactures cards, software, and components for:
Board-level products come in a variety of form factors, including USB, PCI, PCMCIA, PMC, cPCI, PC/104, PC/104-Plus, VME/VXI, PCI-Express and ExpressCard. Component-level products include Ball Grid Array (BGA), ceramic, and plastic packages with numerous lead configuration options. Product lifecycles are extended through software compatibility maintenance across expanding product generations, protecting customers'investments in software development, system testing and qualification of the end product.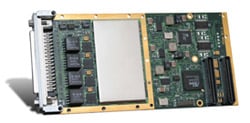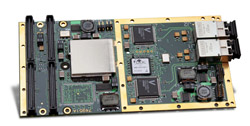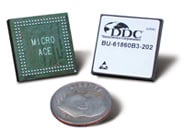 Technical Articles

Avionics Networking Technology (.pdf)
(Networking Equipment)
Avionics system architects have a wide variety of commercial off the shelf (COTS) choices for networking technologies. The challenge facing many system architects is choosing a cost effective... (
View Full Article
)