About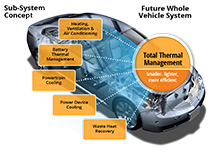 DENSO is one of the largest global automotive suppliers of advanced technology, systems and components, heading toward an automotive society where cars put less drag on the environment and drivers have fewer worries about traffic accidents. Our lead in developing this automotive society comes from anticipating the needs of automakers and closely partnering with customers right from the start to develop state-of-the-art systems and products.
We're going all out to design groundbreaking technology and components for the automotive industry, and beyond. Each year, we invest about 9 percent of consolidated net sales back into R&D. And, DENSO consistently ranks at the top of the automotive industry for patents generated each year. While leveraging our global expertise, we stay on track with regional needs to bring a competitive line-up of innovative technology that the industry has come to count on.
THERMAL SYSTEMS
Did you know 80 % of fuel energy used to power your vehicle is lost? Most of that is wasted heat energy. That's why we look at the entire vehicle in our approach to thermal systems. And we innovate ways to recover and reuse wasted heat energy to efficiently heat things up and cool things down inside the car and under the hood.
POWERTRAIN SYSTEMS
When the rubber meets the road, our powertrain systems and technology deliver a powerful drive with increased fuel economy and lower emissions. From fuel-powered to electrified vehicle systems, we look at how our powertrain technologies integrate with the entire vehicle to enable the best performance possible.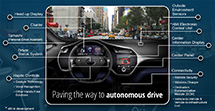 BODY ELECTRONICS
Many say technology contributes to driver distraction. We believe technology can be safely used to solve the problem. From head-up display to voice recognition and human machine interface, we're researching and developing technologies and systems that help ensure safe driving, enable seamless connectivity and reduce driver workload.
DRIVING CONTROL & SAFETY
1.24 Million people die in auto accidents worldwide each year. Accidents happen, but we're working to change that. Our vision is a world that's free of auto accidents. We're actively working to give you peace of mind and help keep you in control on and off the road with our advanced driving control and safety technologies. Our active safety products help you avoid accidents BEFORE they happen. If an accident does happen, our passive safety systems will help keep you protected. DENSO is a leader in the latest Vehicle-to-vehicle and Vehicle-to-infrastructure (V2X) safety technology to allows cars to "talk" or communicate with other surrounding vehicles and traffic signals.
Supplier Directory Categories
DENSO International America, Inc. is listed in these categories: