About
Detroit Name Plate Etching Co., Inc. has been serving Industry since 1911. DNPE is located in Southeast Michigan in the heart of one of the world's great manufacturing centers.
The Company was originally established as a supplier for the carriage and early automobile industries. The world has changed considerably since those early days. But, their commitment to quality is still going strong.
In recent years the company has undergone an extensive makeover, including the quality program for ISO 9001:2000 certification. As a result, DNPE has once again taken its place as a leader in the metal identification market.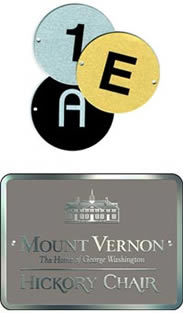 Detroit Name Plate Etching Company's goal is to develop relationships that lead to the mutual success of their customers, employees and suppliers.
Detroit Name Plate Etching Company defines quality as total customer satisfaction, striving for excellence in all aspects of their business through the continuous improvement of their people and processes. Customer focus, craftsmanship, and teamwork create the foundation for Detroit Name Plate Etching Company's commitment to quality.
Detroit Name Plate Etching Company demonstrates this commitment by providing the highest quality Identification Products to satisfy their customer's requirements.
Meeting this standard has streamlined Detroit Name Plate Etching Company's process with a system of checks and balances to ensure that your order will meet or surpass your specifications.
DNPE manufactures quality identification products including; machinery/control panels, scales and dials, bar code plates, logo plates, serial and model number plates, wiring diagrams, product liability plates, and a variety of special purpose products.
Supplier Directory Categories
Detroit Name Plate Etching Co., Inc. is listed in these categories: