About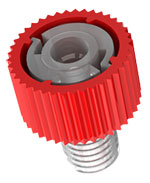 Diba Industries, Inc. was founded in 1986 in Mahopac, NY; but our roots in fluidics design go back to the Research and Advanced System Development Groups at Technicon Instruments Corporation in the early 1960's. Diba initially produced complete inert fluid transfer subassemblies, specialty components and tubing assemblies for the diagnostics marketplace. Diba moved to Danbury, CT in 1994 and was acquired by Halma PLC in 2004. Since 2004 Diba has concentrated on expanding our product offerings through innovation and acquisition.

Diba Industries focus is the fluid path. Diba's proprietary technologies and products offer both innovation and functionality to customers' fluid path applications, which are critical to their system's performance, but often overlooked:

Click-N-Seal®
Diba's Click-N-Seal® fittings are the only multi-use finger-tight fittings that cannot be over-tightened. The Click-N-Seal® family of connectors area available in PC, POM & PEEK and accommodate flares, ferrules and barbs. In addition, the PEEK Click-N-Seal® Ultra fittings are compatible with both flat bottom and HPLC "bullet tip" ports, and are pressure rated up to 7,000 psi.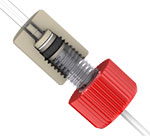 MicroBarb®
Diba's MircoBarb® fitting is the only low-carryover micro bore soft tubing connector that can connect flexible soft tubing and semi-rigid tubing. MircoBarb® connectors are available in PEEK and come pre-packed for standard pump tubing IDs from: 0.010" up to 0.060". They can also be custom sized to accommodate tubing ODs from: 0.062" up to 0.156".
DP3®
DP3® is Diba's precision polishing process for probes. The DP3® process polishes and smoothes the internal surface of a probe and reduces carry-over by up to 75%. Diba's DP3® process creates an extremely durable surface that will improve the performance of an existing probe design, and unlike coatings will not flake off over time.
HydroPLUS™
Diba's HydroPLUS™ pressure level sensing technology (patent pending) is the only continuous level sensor for non-volatile fluids and any vessel shape that can also be utilized concurrently as a diagnostic pressure monitor. HydroPLUS™ features integrated electronics and is compatible with existing containers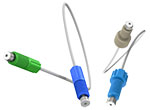 OmniLok™
Diba's standard fitting series designed for maximum thread engagement in a flat bottom port and pressure rated up to 1,000 psi. OmniLok™ connectors are available in PP & PEEK and accommodate flares, ferrules and barbs.
Omnifit® Gripper
Diba's premier ferrule technology, the ferrule permanently "grips" the outside of semi-rigid tubing, which eliminates tubing twist while tightening the fitting into the port. The gripper is also Diba's most chemically inert ferrule with an inner PTFE sealing face, and is pressure rated up to 1,000 psi.
Supplier Directory Categories
Diba Industries, Inc. is listed in these categories: