About
The Differential Pressure Difference
A leader in the manufacturing of differential pressure gauges. The First Family of Differential Pressure Gauges to offer a choice of models to meet economic demands of the filter industry. For the first time, the end user can decide how much to spend on filter condition indicators.

We are a custom design firm and would be happy to look at your specialty designs; please contact us for a quotation.
Differential Pressure Plus, Inc., has established itself as the leading manufacturer of high-quality, low-cost differential pressure indicators.
Filtration systems require monitoring to maintain the performance levels guaranteed by the manufacturer and the continued expectations of the user.
Backflow Test Kit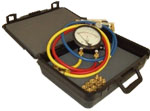 Differential Pressure Plus' NEW TK-10 - Backflow Preventer Test Kit
Contact us for any questions regarding any of our products or to request a quote for your specialty design.
Supplier Directory Categories
Differential Pressure Plus, Inc. is also listed in these categories:
Technical Articles

Δ- P Quickly Spots Leakage
(Pressure Sensing)
When fluid-power assemblies must be tested for leakage, the traditional low-tech approaches have been: * Fill the assembly with compressed air, then slop soapy water on it to see if bubbles will... (
View Full Article
)

Filter Elements Containment Function
(Pressure Sensing)
Fluid power applications, both hydraulic and pneumatic, are vulnerable to contamination. This fact leads to the success and growth of the filter business even in recent recessionary environments. It... (
View Full Article
)