About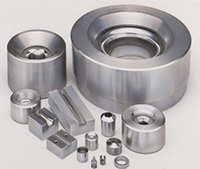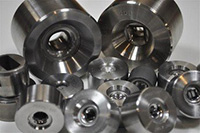 Tungsten Carbide Products & Highest Quality Carbide Dies

Who is Sancliff? Quite simply... We are Wire Die & Coating Systems experts! Our primary products are Tungsten Carbide Wire Dies for a wide variety of industrial applications. We will work with our customers to help manufacture superior products that save money during production. We take full advantage of the manufacturing process to produce high quality Tungsten Carbide Wire Drawing, Textile Impregnation, and Fiber Optic Coating dies.

Sancliff, Inc. was established in 1948 and has been a Wire Die manufacturer for more than 65 years! We've been providing shaped and round dies with unsurpassed quality and consistency to clients all around the world for decades. Our deliveries are consistently on time and we offer the best pricing in the industry throughout our product line. Let us show you what we have to offer and CALL TODAY for a quotation, or with any questions you may have!

Shaped Wire Drawing Dies
Sancliff's Tungsten Carbide Shaped Wire Drawing Dies are the most common and cost effective die available for drawing shaped wire. Sancliff manufactures Shaped Wire Drawing Dies of unparalleled quality, consistency and value. Our lead times constantly exceed customer expectations. We offer new Shaped Dies, recuts and so much more.

Fiber Optic Coaters
Sancliff's Fiber Optic Cladding Dies, Coating Dies, Coating Head Assemblies and Pressurized Coating Systems are engineered to deliver controlled supplies of diverse chemical composition and varied viscosity coating to our Fiber Optic Coating Head and Die Assemblies. Cladding and Coating devices are available in split, solid, wet on wet, twin and multi configurations for conventional round and/or specialty shaped fibers and substrates.

Textile Coating Dies
Textile coating dies are manufactured from Tungsten Carbide with the tightest possible geometric specification tolerances available. Sancliff has been designing, specifying, and supplying standard and custom dies to the textile industry for more than 65 years. Our coating dies are in constant use in all parts of the world and we count many of the world's top textile manufactures as our valued clients.
Supplier Directory Categories
Sancliff, Inc. is listed in these categories: