About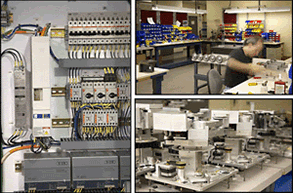 The EF Precision Group is ISO 9001:2000 Certified by Det Norske Veritas (DNV) and is an FDA Registered Contract Manufacturer; there are two specialized, autonomous interacting companies within the Group. Quality has long been a fundamental discipline and remains as their top priority through continuous improvement process.

EF Precision, Inc. a High-Tech CNC Machine Shop – a core competency of close tolerances complex machines parts. EF Percision wants the problematic and difficult parts. They want the parts that their competition quit on. They want the opportunity to enrich their relationship from the beginning. The EF Percision Group shop offers over 45 CNC machines including;
5 Axis Machining – Kitamura MyTrunnion Machines
5 Axis – Twin Spindle Lathes – Okuma's
9 Axis Swiss Turn – Citizen Cincom
Precision Assembly, Inc. a Turnkey Solution Provider - from prototype to production, from simple to complex, either custom or design controlled assemblies. Utilizing their ERP system they mirror Bill of Materials and maintain metrics of most financial information. They turn their Customer soft costs into savings providing;
Complete Materials Management; Inventory, Purchasing
Electromechanical Assemblies
Deliveries – JIT, Scheduled, Kanban – no matter the method it is on-time.
It is Their commitment to Excellence, Dedication to Their Customers, and Their Personnel that Defines Them.
It is Their Attitude that separates them from the others!

Their Engineers are integrated into both businesses providing engineering services. Their customers range from pharmaceutical, medical, semiconductor to the paper, OEM, and fluidics industries. The Engineering's core competencies include:
Machine design and build, concept-through-completion
Integration of robotics into current processes or new process
Re-engineering for manufacturability or improvement to current design
Proficient using the following software:

Pro Engineering®
AutoCAD® 2007

Autodesk® Inventor™

SolidWorks®
Mastercam®
Attitude Is Everything!
Supplier Directory Categories
EF Precision Group (The) is listed in these categories: