About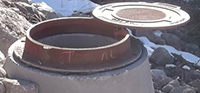 EJ is the world leader in the design, manufacture and distribution of access solutions for water, sewer, drainage, telecommunications and utility networks worldwide.

With ingenuity and craft, we have shaped molten iron into products that serve as the infrastructure of neighborhoods, villages and cities. With integrity and heart, we have responded to our customer's needs and expectations and built names for ourselves: East Jordan Iron Works, Cavanagh, Norinco, McCoy and Havestock. Our family heritage and legacy have been the cornerstones of our journey.

We are now a global enterprise that spans 5 continents promoting innovation, quality and a commitment to customer service. Our commercial presence worldwide includes 50 sales offices, 10 manufacturing facilities and multiple research and development centers.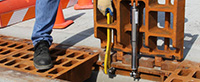 We complement our extensive in-house knowledge with third-party research and input from industry experts. Our product designers use the latest software to generate designs. We also ensure that our products perform optimally through finite element analysis, in-house tests on materials, and load tests on product prototypes.
We further verify that our products stand up under today's demands through our on-road testing and research. Once we are satisfied that our products will best meet customer needs, we manufacture them in best-in-class facilities and distribute them in over 140 countries.
We allow customers to customize many of our products with permanent messages and images. Our products are designed to provide optimum performance. Our legacy of continuous improvement, innovation and safety will extend far into the future.
Supplier Directory Categories
East Jordan Iron Works, Inc. is listed in these categories: