About

Eaton® manufacturing enclosure based power distribution units for both the domestic and international markets. These ePDUs offer an array of features including: circuit breaker protection, EMI and RFI filtering, spike/surge protection, remote power on/off, system-remote reboot, emergency shutdown, redundant power, and sequential power up/down, power control via web browser, telnet, serial & SNMP.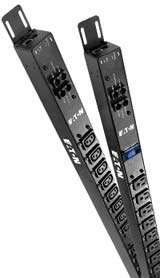 Eaton's electrical business is a global leader in electrical control, power distribution, uninterrupted power supply and industrial automation products and services. Eaton has many global brands that provide customer driven PowerChain Management™ solutions to serve the power system needs of the industrial, institutional, government, utility, commercial, residential, IT, mission critical OEM markets worldwide.
In June of 2007 Eaton acquired Pulizzi Engineering. The acquisition of Pulizzi broadened Eaton's power quality and enclosure power distribution offerings. Pulizzi founded in 1973 was a key building block to add to Eaton's already existing strong product line.
For more than 40 years, Eaton has worked closely with customers to meet their requirements for innovative, end-to-end power protection and management solutions. That's why thousands of customers of all sizes around the world put their confidence in Eaton's comprehensive power solutions to protect their mission-critical systems.
Eaton strives for continued success in leveraging technical innovation to develop next-generation products that fulfill specific customer requirements.
Supplier Directory Categories
Eaton-ePDU® is listed in these categories:
Technical Articles

Fuses: The Dinosaurs of Circuit Protection
(Electrical Distribution and Protection)
In the interest of saving space and reducing costs, some designers of power distribution/power controllers select fuses as opposed to electro-magnetic circuit breakers as a method of circuit... (
View Full Article
)