About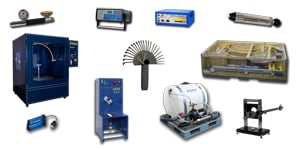 ED&D is the world's best source for Product Safety Testing Equipment. Our on-staff engineers are the most highly qualified in the industry. You can find any testing equipment that you are looking for through ED&D.

We serve companies of all sizes worldwide... Apple, IBM, NASA, Intel, NCR, Sony, Sun, Cisco, AT&T, JVC, Hewlett-Packard, Motorola, Mattel, Dell you name it! And if that's not good enough, how about every major test lab in the world: UL, CSA, ETL, TUV, MET, Demko, etc.
ED&D is ISO/IEC 17025 Accredited -- as such we are the world's only manufacturer of a full line of product safety test equipment to achieve this status. Our Scope of Accreditation covers most of our line, which positions us uniquely in the world. We have a full service calibration laboratory staffed by degreed engineers and expert level technicians. Additionally, we can provide on-site calibrations on an as-needed basis.
Our focus is on rock solid product quality and superior product and customer service. We are able to do this by hiring degreed industry experts. Additionally, many of our employees gained their vast knowledge working at NRTL's such as UL and Intertek, among others. ED&D is able to attract top-level talent for several reasons... a big draw is our location, which has been ranked as the #1 place to live as well as the #1 place in the country to work and do business. As the corporate roots come from Silicon Valley, they have brought those same work ethics to the company. We offer a relaxed work environment with competitive pay, fantastic opportunity for advancement, and an excellent benefits package. We only hire self-motivated individuals, therefore, a need to micro-manage is unheard of - - employees are essentially given free reign as professionals, which we've found maximizes not only their potential, but job satisfaction as well.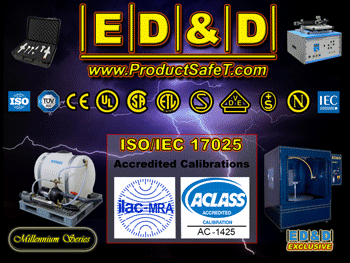 As a result, ED&D has been synonymous with high quality innovation, excellent technical service, product value and superior customer service. We are dedicated to providing you with the best product safety solutions available... in turn our client list includes all of the Fortune 500 manufacturers as well as all of the NRTL's. We do not settle for second best and neither do our customers. Due to our extreme attention and quality, ED&D is at the top of the industry. We have won numerous awards, repeat business and heavy praise from our customers.
The engineering changes required to make a product safe are usually not expensive to introduce during the design process, but the costs can skyrocket as the product gets closer to the market (redesign, lost opportunity, etc). Many times, safety is given little consideration during the early phases of product development. This is unfortunate due to many of the design flaws found at later audits. Design changes cost companies time and money, so it is smarter to purchase the needed equipment in advance. Let ED&D help save you the headache related to these issues, so your product will launch on time, every time. If you want to be a step ahead, give us a call today at +1-919-469-9434 or contact us directly!
Supplier Directory Categories
ED&D Inc. is listed in these categories: