About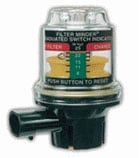 A global supplier of Filter Minder® filter monitoring devices for over thirty years. Throughout this time, the company's product offering has expanded to include a full and high quality line of filter service monitors, including gauges, indicators, switches, and sensors. Monitors for air filters, fuel filters, HVAC filters, desciccant filters, crankcase filters, and oil filters are available. These pressure devices can also be used to monitor non-filter related pressure and vacuum such as fuel system pressure, oil pressure, brake pressure, etc.
The Filter Minder® line of filter monitoring devices can be found on a wide variety of applications throughout the world, in industries such as automotive, truck, construction, agriculture, compressors, blowers, hydraulics, lawn and garden, irrigation... in short, any industry that uses a filter.
Below are just a few examples of Filter Minder® monitoring applications.
| | | | |
| --- | --- | --- | --- |
| Pick-Up Trucks | Truck & Bus | Lawn & Turf | Agriculture |
| Air Compressor | Construction | Automotive | Heavy Trucks |
Along with filter monitoring, new pressure switch and sensor products can monitor many types of pressure applications on engines to include:
the fuel system
crankcase
exhaust
oil
and more
Other applications include:
air brake systems on trucks, buses, etc,
virtually any pressure application within specifications
Supplier Directory Categories
Filter Minder® is also listed in these categories:
Technical Articles

Not All Interfaces Are Created Equal
(Pressure Sensing)
Engineered Products Company (Filter Minder) has recently added to its portfolio a line of Electronic Pressure/Vacuum Sensors suitable for a broad range of transportation and industrial applications. (
View Full Article
)