About


Ferro is a leading global supplier of technology-based materials for a broad range of manufacturers. Our materials enhance the performance of products in electronics, solar energy, telecommunications, appliances, automotive, household furnishings, building and renovation, pharmaceuticals and industrial markets.
Ferro is almost everywhere you look, in fact, the computer you're using now probably contains our products on its circuit boards. From your mobile device, to your car, to your coffee cup, our materials provide strength, beauty, protection and specific performance characteristics to products you enjoy and depend on every day.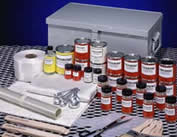 Ferro's innovative performance materials add value to a wide range of consumer and industrial products in a number of diversified end-use markets. Thousands of manufacturers around the world, including some of the largest and best known, rely on us to ensure the improved performance of their products and processes.
Many of these manufacturers look to Ferro as a total supplier of performance materials for diverse and demanding applications. Supporting our products are highly skilled technical sales and service representatives who work closely with customers to find solutions to their specific challenges.
Ferro has a tradition of serving customers all around the world. In 1927, we established an international presence by adding operations in Canada. Europe followed two years later. And that was only the beginning. Today, we have:
Operations in 25 countries
Customers in more than 100 countries
About 5,200 employees

Ferro's Core Values and Behaviors, which underpin the company's "Win from Within" operating tenets, advocate social responsibility. We believe that being socially responsible is necessary to building trusting relationships with our constituents and to winning as a business enterprise.
Ferro see philanthropy in the forms of corporate giving and employee volunteerism and environmental, health and safety practices, as main components of our social responsibility. We invite you to learn more about how these activities are part of our business culture.
Supplier Directory Categories
Ferro Corporation is listed in these categories: