About
Franklin Fibre-Lamitex Corporation is an experienced manufacturer, fabricator, and supplier of plastic and non-metallic materials, interested in being your business partner. Since the founding of the Corporation in 1921, they have provided the best in basic forms and fabricated parts of technical engineering plastics, Vulcanized Fibre, and Lamitex® industrial laminated materials.

Franklin updates and publishes technical data and information in an easy to use complete engineering reference and product catalog - available upon request. From material selection to application engineering and product development, Franklin can help your company succeed.




Products and Services Include: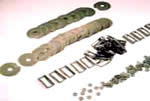 FRANKLIN Fibre™
Vulcanized FRANKLIN Fibre? is a very hard, dense homogeneous material up to .093" thick, possessing a wide range of favorable properties. It is available in sheet, rod, tubing, and roll or coil stock. Standard colors are Red, Gray and Black.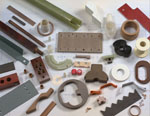 Fabrication
Franklin designs, engineers, and rigorously tests their products through to market acceptance. Precision fabrication demands complete understanding of all customers' performance requirements. Technical assistance is guaranteed by utilizing their engineering staff.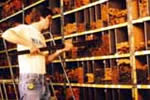 Plastics
Franklin stretches the boundaries of plastics applications with their engineering and high performance selection of plastics. Franklin maintains a complete stock of high performance mechanical grade thermoplastics for distribution and quick turnaround on machined parts.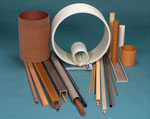 LAMITEX® Laminates
LAMITEX® laminates are engineering materials made from layers of fibrous reinforcement such as cotton cloth, paper or woven glass cloth, which are bonded together with high quality plastics resins. The layers are pressed together under high pressure and the resin is baked until it becomes solid, fusing the material into a tough, strong and dense material.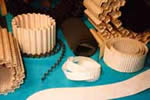 Corrugated Insulation
When Franklin square, rectangular or sinusoidal insulation in special corrugated form are used in transformer winding, it provides convenience and labor savings. Many small to large sizes are produced for instrument toroid coils through large power and distribution transformers.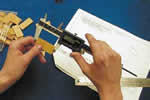 LAMITEX® Specialty Grades
Designed materials that possess terrific strength, durability, dimensional stability, and excellent wear characteristics. Lamitex specialty materials are used extensively for vanes in compressors, vacuum pumps and air motors.
Supplier Directory Categories
Franklin Fibre-Lamitex Corporation is listed in these categories: