About

Freelin-Wade was started in 1980 behind the vision of their founder Fred Plews to, "find a need and fill it." Fred's long career building dental equipment led him to design a special polyurethane tube for that industry. His high-performing tube became the foundation for Freelin-Wade.
Freelin-Wade quickly learned that polyurethane not only works great in dental equipment, but has applications across virtually all industries. In the decades that have followed, they've been expanding their product line to include more than 4,000 stock items. In addition, they have increased their custom capabilities so they can do an infinite range of variations.
The company that started in Fred's garage now employs more than 100 people in a large manufacturing center in McMinnville, Oregon. They are located among the rolling hills of the Willamette Valley in the middle of the region's famous pinot noir vineyards. They continue to hold to Fred's vision, filling their customer's needs with their large inventory of plastic tubing, flexible hoses and rapid turnaround of variations.
Freelin-Wade was acquired in 1990 by Coilhose Pneumatics, of East Brunswick, New Jersey. Many of their more popular items can also be found in their catalog.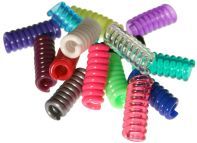 Freelin-Wade's plastic tubing is an exact fit and with a verifiable 99% on-time delivery rate, you know exactly when your order will arrive. They stock more than 4,000 sizes, colors and configurations of pneumatic hoses, flexible plastic tubing, polyurethane tubing, and nylon tubing. Plus, they're happy to make any plastic tubing variations and prototypes that you might dream up. Their clear plastic tubing and hoses have worked great in numerous industries, especially in the dental and medical, food and beverage, robotics and electronic fields. Their plastic tubing and hoses can be used for any application. There is no minimum order quantity, so it's easy to have them build a coil, private label, create multi-tube bundles or whatever it is that you can imagine.
Plastic Tubing & Flexible Tubing Products

Dental Tubing
& Profiles

Tethers & Lanyards

Plastic Tubing Variations
Supplier Directory Categories
Freelin-Wade Company is listed in these categories: