About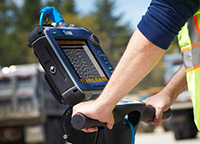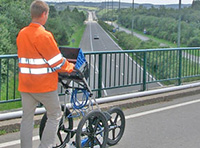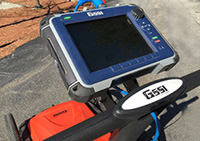 Geophysical Survey Systems, Inc. (GSSI) is the world's leading manufacturer of ground penetrating radar (GPR) equipment. With cutting-edge products designed to address a wide range of challenging applications, the GSSI name is synonymous with unsurpassed data quality and field-proven reliability. GSSI is an internationally respected corporation known for our technological advancements in the geophysical, archaeological, forensics, infrastructure, public works and transportation industries. We serve our clients with technical expertise, unsurpassed customer support and training facilities, and superior products.
GSSI products are distributed through a series of application specialists and representatives worldwide to five primary markets — concrete inspection, utility mapping and locating, road and bridge deck evaluation, geophysics and archaeology. We also serve many specialty markets including tree assessment, golf course management, environmental assessment and ice and snow investigation, to name a few. GSSI offers a wide range of innovative products and solutions designed with your needs in mind. Usage ranges from traditional geophysical to the emerging infrastructure and transportation industries. We see pioneering ways in which our equipment is in use every day, and are proud to be at the forefront with exciting technology to help you get the information you need.
GSSI's four decades as the world leader in the development and manufacture of subsurface imaging systems highlight its current line of cutting-edge products. Known in the industry for data accuracy that is unparalleled, GSSI provides the highest quality GPR and EM equipment available today. Our systems and antennas are used worldwide to explore the subsurface of the earth and to nondestructively inspect infrastructure systems. GSSI provides flexibility across product lines so our data acquisition systems can be utilized and interchanged with all of our antennas for greater value and diverse application use. GSSI is the original pioneering GPR company and continues to find solutions to fit your company's needs every day.
Supplier Directory Categories
Geophysical Survey Systems, Inc. is listed in these categories: