About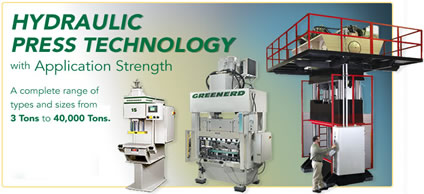 Greenerd Press & Machine Co. is a leading supplier of hydraulic press solutions with product capability to 40,000 tons, bed sizes exceeding 240" (6100 mm), and styles ranging from gap frame and straight-side to die-spotting and forging presses. Greenerd is the also exclusive North American representative for Tianjin Tianduan Press Company, the oldest and largest hydraulic press company in China. Greenerd's unique strength lies in the relationships they develop with their customers. They create a true partnership with you, learning as much as possible about your business, applications, and objectives so that they can design and build a press that is best suited to your specific needs.
Innovative Press Solutions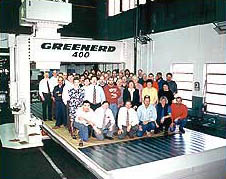 More Models, More Choices: No other press builder provides more models in more tonnage ranges and styles than Greenerd. They also offer a full range of options and modifications to enhance the performance, productivity, and flexibility of their presses. Presses are designed to provide many years of efficient, flexible, and reliable service.
Greenerd's complete line of standard hydraulic presses along with their ability to custom-design a press to suit their customers' specific requirements, allows them to successfully serve a wide variety of industries. Greenerd has a wealth of experience handling a diverse range of applications – from the standard to the challenging and unique. In addition, Greenerd Hydraulics distributes components and provides power unit fabrication, field service and repair, controls engineering and custom manifold design.
Quality
Designed and Built to Last: Greenerd presses are rugged, heavy-duty machines designed and built to stand up to the rigors of three-shift manufacturing. With minor routine maintenance, they'll provide years of trouble-free service. Heavy duty components, meticulous construction, stringent quality standards and extensive final testing ensure reliability and longevity.
Engineering Expertise
Greenerd's dedicated team of engineers has over 50 years combined experience working directly for Greenerd Press & Machine designing high quality presses and equipment. With a passion for the latest technologies, their engineers are always finding new ways to deliver the safest, most efficient, affordable, and reliable machine capabilities.
Utilizing the latest engineering tools, including advanced three-dimensional solids modeling and finite element analysis (FEA), Greenerd's team of engineers is able to identify and correct potential issues before they become manufacturing or functional problems. Combining this with their engineering knowledge and experience equates to delivering reliable, high quality press designs every time no matter how complex.

Supplier Directory Categories
Greenerd Press & Machine Co., Inc. is listed in these categories:
Technical Articles