About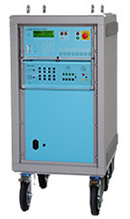 HV TECHNOLOGIES, Inc. (HVT) is a prominent supplier of High Voltage and EMC Test Equipment and solutions. Our testing and measurement solutions help our customers with the quality of the high voltage insulation systems of power apparatus or HV components, or for the electromagnetic compatibility of their electronic systems.
We have a century of experience and dedication in serving the testing equipment needs for the power utility, power apparatus, and electronic equipment industries. The company is located in Manassas, Virginia, USA and Zeiningen, Switzerland (near Basel) and is a privately held, US-owned and US-based company. The ownership has been active and dedicated to this industry for over 35 years.
We can offer the most advanced and economic test equipment (and services for these) in the industry. The staff of HVT, in cooperation with our partners is focused on providing our clients with top quality, full compliance test instruments at the most competitive prices. Our staff has been supporting the test communities by designing, producing, and distributing the best in test instruments for over two decades.
When using our partners' products, customers experience the most reliable equipment with the cleanest waveforms, most accurate phase angle synchronization, and repeatable results available. This has been possible through innovative product design and the deployment of unique leading-edge technologies.
Supplier Directory Categories
HV Technologies, Inc. is listed in these categories: