About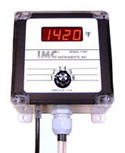 IMC Instruments, Inc. — Instrumentation With Quality Engineering

IMC offers product lines of unique thermometers, controlls, and alarms for commerical, industrial, and OEM applications:

• Thermometers for cooking confections: Battery or line-powered Nema-4X rated meters with large variety of thermocouple hand-held or permanent-installation probes.
• Thermometers for baking bread and pizza: Battery or line-powered meters suitable for wet location permanent or transportable mounting. Monitor up to 6 thermocouple probes with its long-life selector.
• Portable thermometers for food inspection: Rechargeable thermometers for prescision and wide-range food inspection with large selection of permanent or detachable probes. These models are ruggedly constructed for demanding applications.
• Temperature monitors for field testing refrigeration and heating systems: Thermocouple multi-probe meters housed in a tough carrying case. Durable mechanical selector, 9-volt battery operation or line-powered. Large selection of low-cost probes for up to 2000 degree F monitoring or use easy to make probes for low temperature applicattions. These meters are also available for Wall mounting, bench use and panel-style for cabinet mounting.
Supplier Directory Categories
IMC Instruments, Inc. is listed in these categories: