About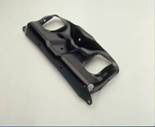 Imperial Group plants fabricate a wide variety of components at their four locations in Portland, TN, Chehalis, WA, Decatur, TX, and Dublin, VA. Their TN facility includes both a fabricating plant and a large polishing and chrome plating facility.
Each location is responsible for specific components in the Imperial Group supply structure, depending on client needs. The facilities are strategically located in close geographical proximity to clients, in order to reduce shipping time/cost and communication concerns. All facilities are TS-16949 and ISO-14001 registered.
Dedicated managers and engineers are present at each facility to work hand in hand with clients to address their individual needs.
Imperial Fabricating of Tennessee
At Imperial Fabricating of Tennessee they fabricate, stamp, and assemble metal components for their clients in many industries. With state of the art manufacturing equipment such as waterjet cutters, flat sheet and 5 axis lasers, robotic welding, CNC brakes and punches, heavy presses, and a wide range of stamping capabilities, Imperial has the tools to get the job done.
Imperial Fabricating of Washington
Their core business is fabrication and assembly of metal components for their clients in the multiple industries. Products include aluminum and steel fuel tanks, frame cross members, gussets, battery boxes, and various stamped and welded assemblies. Imperial supports their clients with value added services such as sub-assembly and "Just In Time" delivery, thus reducing their clients inventory requirements.

Imperial Fabricating of Texas
The Decatur facility is equipped to perform a number of tasks including CNC machining, plasma cutting, assembly, powdercoat/painting, press, punch, bending, and brake work.

Imperial Fabricating of Texas fabricates components using state of the art equipment and world class associates. They are a major supplier of body panels, stampings, battery and tool boxes, frame cross members, and numerous small components to variety of OEM industrial customers. Their plant is equipped to provide "Just In Time" parts delivery, line set to meet client requirements. Imperial provides excellent quality products, and pride themselves in exceeding customer expectations.
Imperial Fabricating of Virginia
Imperial manufactures various components for the Eastern region including fuel tanks, exhaust stacks, grab handles, crossmembers, mirror frames, and many other small components. They are equipped to bend pipe up to 5" in diameter. In addition to manufacturing components, they perform a number of value added services such as powdercoating, linesetting, assembly, warehousing, and painting.
Supplier Directory Categories
Imperial Group is listed in these categories: