About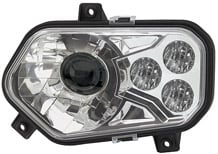 J.W. Speaker Corporation is a privately held company based in Germantown, Wisconsin that manufactures vehicular lighting products for original equipment manufacturers (OEMs) and aftermarket applications. The company primarily specializes in light emitting diode (LED) technology, but does offer high intensity discharge (HID), halogen, and incandescent lighting products as well.
The company was founded in 1935 by John W. Speaker. Early products included tire repair equipment and kits, radiator fronts, car and truck mirrors, and automotive lighting. In the early 1940's, J.W. Speaker Corporation developed the Heatab® miniature portable stove and the "P38" GI can opener – both of which were widely used during World War II and for several decades thereafter by the U.S. military.
In 1960, under the leadership of John's son, Jack, the corporation shifted its focus to original equipment manufacturer (OEM) vehicular lighting – initially for lawn & garden and golf & turf tractors. Since then, J.W. Speaker has developed and specialized in manufacturing a wide variety of lighting products for other OEMs in agriculture, construction, on-road commercial, material handling, mining, motorcycle, recreation, and aviation markets.
In 1982, Jack Speaker's sons, Tim and Jamie, officially joined the company. As vehicle design shifted from hang-on lamps to custom-fit, flush-mounted lighting, so too did J.W. Speaker Corporation's product offering. Growth demanded increased production capabilities, so the company moved to a new, larger production facility in Germantown, Wisconsin in 1988. In 1997, the Germantown facility was expanded to 100,000 square feet.
Jack Speaker retired from the business in 2000 and his sons assumed co-leadership of the company. In 2002, J.W. Speaker Corporation developed their first LED headlamp prototype - a 7" round lamp called the Model 8700. The Model 8700 was released for production in 2006 and a customized version was developed for Harley-Davidson a short time later. Subsequent LED headlamps in various shapes and sizes were designed and manufactured by the J.W. Speaker Corporation during this same period. In 2007, the company was the first to develop and produce an LED signal light that emitted amber colored light through a red lens. In 2010, a brand new 178,000 square foot state-of-the-art production facility was constructed on Freistadt Road in Germantown, Wisconsin.
Our capabilities include, but are not limited to, the following:
New Product Development
In-House Modeling
Optical Engineering
Virtual Reality
Photometric Testing
Electromagnetic Interference Testing
Injection Moulding
Assembly
Supplier Directory Categories
J.W. Speaker Corporation is listed in these categories: