About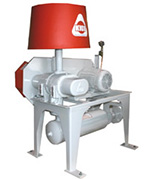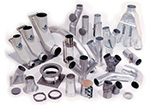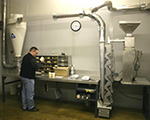 Skilled Air Products and Services to Help your Business Grow
Kice engineers complete industrial air systems and build most of the equipment specified for these systems. Applications include pneumatic conveying, dust control and aspiration. Kice also has several different services including Custom Fabrication, Kice Automation, Process/Layout, and UL Panel Shop.
Central Vac
Kice Central Vac systems have proven to be very reliable housekeeping tools. Utilizing a positive displacement pump to move air, the system is capable of providing users with adequate suction to maintain a safe and dust free environment. A positive displacement pump gives users a much more energy efficient means for moving air. Most systems are designed for two users on one main manifold at a time, with the option of running multiple manifolds.
Filtration/Dust Control
Kice Industries has been designing, analyzing and building dust control systems and equipment for over 50 years. When designing a dust control system, one must consider many factors. Our engineers understand the principles of handling air and apply their experience to every situation.
Multi-Aspiration
There are many reasons why "aspiration" should be considered for product separations, and there is one essential reason that Kice Multi-Aspirators® should be the aspirator used. It is much more efficient. The Kice Multi-Aspirator® is very simple to use and yet it is extremely accurate in separating "lights" from "heavies".
Pneumatic Conveying
Kice has been in the dilute phase of pneumatic conveying for over fifty years and has covered a number of materials. This includes wheat flour, corn meal, soy meal, whole grains, spices, wood products from chips to flour, plastics from virgin pellets to regrind, meat by-products and many more commodities.
Supplier Directory Categories
Kice Industries, Inc. is listed in these categories: