About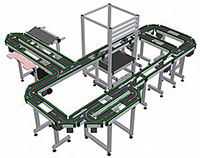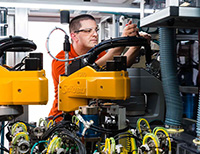 Lanco Integrated is one of the world's most experienced designer and manufacturer of turnkey automated assembly and test systems. From concept to design through manufacturing and after-sales service, no one covers the globe with more reliable or innovative products and service.
Lanco Integrated specializes in creating modular powered and free and cam driven assembly systems designed for future expansion and changes based on customer needs. After your system is delivered, we remain a diligent partner to maximize capabilities and maintain quality.
Lanco Integrated offers a worldwide design, sales, manufacturing, and service network committed to ensuring customers have local access to our wide range of systems and machine expertise. From concept and development to finished product and after-sales service, Lanco Integrated empowers global assembly.
In today's rapidly changing markets, the ability to reuse equipment is increasingly relevant. With Lanco systems, your company maximizes its capabilities by using each part for a multitude of functions. Product upgrades — even brand new products — don't require new machines or components.
Our Micro-Modular systems give you the ability to introduce products into existing system solutions. A standard conveyor can be used in a wide range of system application and configurations. Customers can reuse assets, meeting cost restraints and minimizing environmental impact.
With a Micro-Modular system, we easily introduce new parts and processes. As products are updated, individuals modules can be reconfigured without having to redesign and re-engineer the entire system. As production volumes increases, reconfiguration of a Micro-Modular system is immediate. Conversely, as a product becomes obsolete, your system is easily repurposed. Ramp it up, take it down, and repurpose — Micro-Modular.
Supplier Directory Categories
Lanco Assembly Systems, Inc. is listed in these categories: