About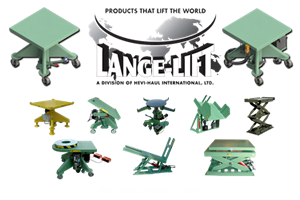 Since 1934, Lange Lift has been manufacturing quality industrial hydraulic lift tables, scissors lifts, pallet inverters, box dumpers, and custom lift products which have served industries worldwide in a variety of applications. Anthony Lange, founder and creative talent, proved to be ahead of his time in his ability to design and build lifting and material handling equipment. He was the vision and strength behind the company until his death in 1994.

In early 1995, the Lange family sold the company, and today's management continues the tradition of producing quality lifting equipment as a family owned business. Lange Lift faces the challenges of the 21st century to stay competitive and highly visible in the marketplace.

The mission of Lange Lift Company, simply stated, is to "Create value with Products that Lift the World." We will continue to do our best to live up to our current and prospective customer's expectations. Behind our mission stands our corporate values and beliefs, which we are proud to share with you: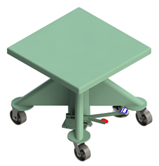 A belief in being the very best.

A belief in doing every job well with a fine attention to detail.
A belief in giving our customers the quality of service and products we would expect if we were the customer and depended on the product.
A belief that every member of the company actively contributes to making the product line better, the customers satisfied and the company a fun place to work through thoughtful communications and mutual trust and respect.
A belief in being responsible members of the community.

As our business grows and we face new challenges, the team at Lange Lift looks forward to, and has a belief in, serving you for a very long time.

Sincerely,

Dan Knaebe,
President of Lange Lift Company
a division of Hevi-Haul International, Ltd.
Supplier Directory Categories
Lange Lift Co. a division of Hevi-Haul International, Ltd. is listed in these categories: