About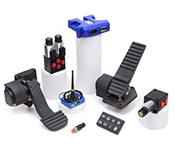 MICO designs and manufactures hydraulic components, controls and brake systems primarily for off-road markets. We are a solution-minded company capable of developing a concept, creating the design, and manufacturing a quality product. MICO Engineers are skilled in the design and application of brake systems and components. Our engineering department uses state-of-the-art design tools and equipment. Cross-functional product development teams strive to quickly create new designs and working prototypes that meet or exceed our customers' expectations. Our modern manufacturing operations use the latest computer-aided machinery. We take pride in our continuous improvement environment where cross-functional process development teams use APQP, PPAP and other quality assurance processes to ensure that we provide our customers with a highly reliable product. We are driven to produce high quality products on schedule — each and every time.
Products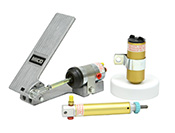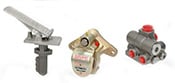 • Brakes — MICO® Disc Brakes include both caliper disc brakes and multiple disc brakes. The caliper disc brakes are available in sliding caliper or fixed caliper type with spring apply, hydraulic apply, or mechanical apply models. They are ideal for providing emergency braking, primary braking, or secondary braking. Our multiple disc brakes are totally enclosed spring or hydraulic apply hydraulic release brakes. Because of their design, these brakes reduce maintenance and down time by preventing external contaminants from entering the brake.
• Brake Actuation — MICO® offers a number of different brake actuators: air/hydraulic; boosted-two fluid; remote; and pressure intensifiers.
• Valves — MICO® Brake Valves are designed for use on vehicles with open center, closed center, or load sensing hydraulic systems. These systems can be designed to take advantage of existing hydraulic power. Some of the different types of hydraulic brake valves MICO has to offer include accumulator charging valves, modulating valves, full power valves, park brake valves, and steering assist valves.
• Electronic Controls — MICO® offers electrohydraulic components, which include a variety of electronic pedal configurations and sensing options, digital valve drivers, and a variety of electrohydraulic brake valves. Typical applications for these products are drive-by-wire, electrohydraulic braking, machines with multiple operator stations, remote control operation, or propel and inching pedals for hydrostatic drive systems. In throttle applications, the pedal can be configured to interface directly to the engine's electronic control unit.
• Electronic Switches — MICO® offers a complete line of quality switches including pressure, vacuum, temperature, differential, and transducer. MICO® also has a pressure differential switch for sensing pressure in either the front or rear portions of split braking systems.
• MICO MOBEUS® — The MICO MOBEUS® family of braking components utilizes the integration of electronics to create improved performance and efficiency for braking on and off-road machinery. The MICO MOBEUS® line of products include a complete range of sensors, actuators, valves, controllers, and software, all designed to work seamlessly together inside the vehicle network.
Markets Served
• Agricultural Equipment
• Airport Support Vehicles
• Crane/Swing Boom Equipment
• Forestry Equipment
• Heavy Construction
• Material Handling Equipment
• Marine Applications
• Military Vehicles
• Mining Equipment
• Railroad Equipment
• Service and Utility Vehicles
• Trailer Braking
• Wind Power
Supplier Directory Categories
MICO, Inc. is listed in these categories: