About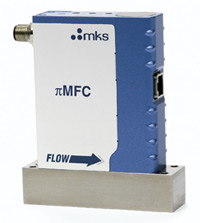 MKS Instruments is a leading worldwide provider of instruments, components, subsystems and process control solutions that measure, control, power and monitor critical parameters of advanced manufacturing processes such as semiconductor device manufacturing; thin-film manufacturing for flat panel displays, optical storage media, architectural glass and electro-optical products; and biopharmaceutical manufacturing. MKS also provides technology for medical imaging equipment.
In response to the increasing requirement for process control in manufacturing, MKS is uniquely positioned to integrate multiple technologies into higher value subsystems and develop solutions that are designed to improve process performance and productivity. Their expansive technology portfolio includes pressure and flow measurement and control, vacuum control, power and reactive gas generation, gas composition monitoring and analysis, data collection and integration technologies, and electrostatic charge control.
MKS Pressure Measurement & Control Products include Baratron® capacitance manometers and gas delivery pressure transducers; upstream and downstream and self-tuning pressure controllers; and butterfly, throttling poppet and pendulum pressure control valves.
MKS Flow Measurement & Control Products include a comprehensive line of mass flow meters and controllers, including all-digital, Ethernet-enabled and pressure insensitive models; products for the precise delivery of gases, vapor, and liquids; and application-specific integrated solutions to lower your cost, reduce complexity, increase performance and improve process productivity.
MKS PICO® leak detectors are portable mass spec-based helium leak detectors which are the smallest and lightest in the world. Weighing less than 17 pounds, the PICO series of sniffing-style and vacuum leak detectors set a new standard for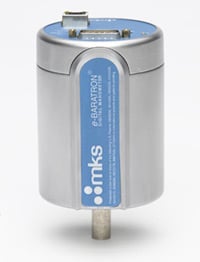 portable leak detection.
MKS CalStand® calibration systems are used by many ISO 9000 Certified companies to ensure compliance to International Quality Standards. You can choose from portable pressure calibrators and portable flow calibrators for ease of movement around the production floor, or a system to meet the needs of your metrology laboratory. In addition, MKS offers calibration services at a number of locations around the world to ensure the quality and accuracy of vacuum, pressure and flow instruments.
MKS provides sophisticated measurement technologies to monitor and control advanced manufacturing processes in various industries. MKS Spectra™ Products include component residual gas analyzers (RGAs), analytical equipment and in situ process monitoring instruments. In addition to mass spectrometers, MKS also designs and manufactures an advanced range of On-Line™ gas analysis products based on proprietary Fourier Transform Infrared (FTIR) spectrometry for the continuous monitoring of process feed, exhaust and stack gases.
MKS Control & Information Technologies enables customers to more completely monitor and analyze, and more precisely control, the process chamber environment by integrating critical process components, technologies and data around the process chamber. MKS process controllers collect data on the process chamber environment by connecting through digital process control network products to the instruments, components and subsystems surrounding the chamber. With the addition of sophisticated connectivity hardware and software, MKS can enable the distribution of that process data in real time across the factory network, as well as perform real-time fault detection.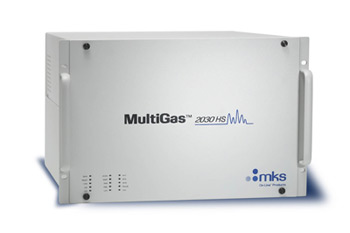 MKS HPS® Products manufactures a comprehensive line of vacuum components and valves in a wide variety of standard sizes and configurations. HPS also offers a broad range of high vacuum gauges that utilize Pirani, convection Pirani, piezo, hot cathode, cold cathode and MEMS-based multi-sensor technologies, as well as Effluent Management Subsystems™ for the efficient handling of process by-products, utilizing HPS vacuum pumping line heaters and traps.
For the biotechnology and pharmaceutical processing industries, HPS Products offers a line of clamp fittings, buttweld components, and vent filter housing heaters that can be used in any liquid flow process or high purity utility application where cleanliness, sterility, dimensional integrity, and materials of construction are critical.
MKS Power & Reactive Gas Products manufactures innovative solutions for plasma, power, and reactive gases. The extensive product portfolio includes ASTeX® reactive gas generators and subsystems such as the ASTRON® Remote Plasma Source; the Semozon® and Liquozon® Ozone generators for ALD, CVD and advanced cleaning applications; and microwave plasma sources and subsystems. Products are sold as individual components or as complete, integrated turnkey systems that meet stringent customer requirements.

This group also manufactures ENI® RF power supplies for semiconductor and other thin film processing applications, and DC power supplies for IC, storage media, flat panel display manufacturing, and other vacuum coating applications. The ENI product portfolio also includes impedance matching networks and plasma metrology products.
MKS Telvac Engineering in Telford, U.K. manufactures complex vacuum subsystems and offers design and manufacturing outsourcing to OEMs.
Supplier Directory Categories
MKS Instruments, Inc. is listed in these categories: