About
For over 60 years, Magtrol Inc and Magtrol SA have been providing customers with high-quality products to test, measure and control torque-speed-power, load-force-weight, tension and displacement. Magtrol Inc, which is headquartered in the USA, is a leading manufacturer of motor test equipment and hysteresis brakes and clutches. Magtrol SA, located in Switzerland, also offers motor test equipment as well as products to measure, control and monitor load-force-weight and displacement. Magtrol offers customers a wide array of measurement and control solutions, combined with excellent worldwide sales and service.

Motor Test Equipment
Magtrol offers three types of Dynamometers, each with a different braking system to absorb load: hysteresis, Eddy-current and powder. The dynamometers are complemented by DSP-based controllers, power analyzers and LabVIEW™ based motor test software. Magtrol's dynamometers, electronics and software are used for testing all types of electric and pneumatic motors, gas engines and gearheads, as well as servo drives and inverters. With over 50 dynamometers to choose from, and the availability of Customised Motor Test Systems (CMTS), virtually every motor testing requirement can be met.
Torque Transducers
Magtrol's In-Line Torque Transducers provide precise torque and speed measurement over a very broad range. Each model has an integrated conditioning electronic module providing 0 to ±10 VDC torque output and an open collector speed output. Magtrol's Torque Transducers are very reliable, providing high overload protection, excellent long-term stability and high noise immunity. All transducer models employ our unique non-contact differential transformer torque measuring technology. This measuring technology offers many benefits, most notably that no electronic components rotate during operation. Several price/performance options are available, as well as custom units.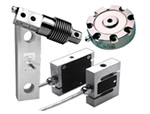 Load-Force-Weight Systems
Highly reliable systems to measure and monitor load, force and weight, commonly used to provide safety, control and overload protection. Typical applications requiring Load-Force-Weight Systems include cranes, harbor installations, oil drilling (on and off shore), hoists, winches and other heavy lifting equipment. The systems are extremely accurate, can be used for static or dynamic measurement, and are able to withstand the most extreme environmental conditions. Product offering includes load measuring pins, load-force-weight sensors, strain transducers, load monitoring units, load conditioners and displays.
Brakes and Clutches
Used to provide precise tension and torque control in many types of applications such as textile, coil winding, EDM, wire and fiber optic cable, printing and packaging. Standard or customized brakes and clutches available, as are power supplies, matched brakes, torque curves and other options.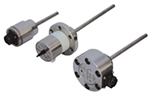 Displacement Transducers
Provide contactless measurement of absolute piston position in hydraulic and pneumatic cylinders, and other applications. Magtrol Displacement Transducers have a high resistance to shock and vibration, no moving parts (and therefore no wear of components), and the ability to withstand pressure up to 450 bar.
Rotary Transmitters
Used for signal transmission of transducers on a rotating part (e.g. engine shaft) to a stationary system (measuring instrument or PC). Common applications include thermocouples and strain gauges, as well as piezo electric transducers to measure oscillation, acceleration, force and pressure. The transmitter can also provide the supply signal to each transducer.
Supplier Directory Categories
Magtrol, Inc. is listed in these categories: