About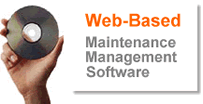 Maintenance Connection provides Web-Based Maintenance Management Software (or Web-Based CMMS Software) for organizations needing equipment maintenance software, work order software, building maintenance software, facility maintenance software, facility management software, asset management software, manufacturing maintenance software, hospital maintenance software, school maintenance software, or government maintenance software.

Features of Maintenance Connection's Web-Based CMMS Software include work order tracking, preventive maintenance, asset management, asset tracking, built-in maintenance procedure libraries, inventory tracking, purchasing, maintenance scheduling, service requests, and a comprehensive report writer - all available by simply using a web browser.
Maintenance Connection is the technology leader of Web-Based CMMS Software, EAM Software, and MRO Software solutions for organizations worldwide. Maintenance Connection's maintenance software solutions are available either online (hosted CMMS solutions or onsite CMMS solutions enabling organizations the ability to increase asset life, track maintenance costs, prevent and predict equipment failures, improve labor productivity, reduce costly equipment downtimes, minimize investments in inventory, and lower the total cost of maintenance.

Developing a preventive maintenance program in addition to tracking asset work order histories will transform a maintenance department from a reactive mode into a planned / preventive mode and Maintenance Connection's browser-based maintenance software is the foundation for this transition.
Maintenance Connection's Computerized Maintenance Management System & Enterprise Asset Management Software can easily be interfaced to 3rd party systems such as ERP software, GIS and SCADA systems, and computer aided facility management software.
Maintenance Connection's feature rich services for maintenance professionals are revolutionizing the way maintenance is managed. Their unique blend of technology and personalized service is a critical component of their clients' satisfaction. Maintenance Connection's attention to service is evident in the people they hire, the software they develop and the way they interact with their clients.
Supplier Directory Categories