About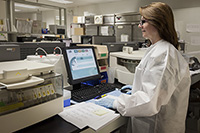 Medica Corporation manufactures simple-to-use, highly reliable diagnostic blood testing analyzers. Actively engaged in developing new technology, Medica specifically designs products to enhance productivity and the quality of care in small to medium-size in vitro diagnostic laboratories. Medica's clinical chemistry, blood gas, electrolyte, and hematology analyzers are focused on the global need to lower health care costs.

Continually developing new and innovative products for use in small to medium-size labs, Medica markets and sells clinical chemistry analyzers, electrolyte analyzers, blood gas analyzers, hematology analyzers, as well as OEM ion-selective electrode (ISE) modules. Medica's products are designed to increase lab efficiency and testing accuracy, while serving the growing demand for on-site diagnostic testing in group practice offices, clinics, and laboratories.

Medica Corporation's diagnostic products help laboratories achieve greater efficiency and testing accuracy across a broad range of blood testing applications. Deployed around the world in small- to medium-size clinics, physicians' offices, specialized care centers, and hospitals, Medica's analyzers allow testing to be performed on-site. In-house testing helps clinics lower overall costs, produce timely results, and improve patient satisfaction.

Medica works closely with clinics to optimize the performance and productivity of their analyzers. With simple, push-button operation, advanced integrated reporting software, and low maintenance requirements, Medica diagnostic analyzers enable lab technicians to increase productivity and deliver quality test results.
Supplier Directory Categories
Medica Corporation is listed in these categories: