About
Meritec provides custom connectors and custom cable assemblies to OEMs in a variety of markets in the electronics industry. Their interconnect products provide cost-effective solutions to the electronic and mechanical challenges posed by increasing signal frequencies and decreasing package sizes. They offer a full line of standard interconnect products for applications requiring critical control of electrical parameters.
Meritec has also earned a reputation for responsiveness, flexibility and creativity in solving unusual interconnect problems, where off-the-shelf solutions are not available or would require compromises in performance or packaging specifications. Meritec has the talents, tools, and technologies to understand a customer's problem, create a cost-effective solution, and manufacture the resulting products.
They will invest in equipment, materials, manufacturing expertise and capacity to meet the needs of any customer willing to develop a relationship that benefits both parties. They have set up EDI purchasing and bar-coding systems for their customers and are "dock-to-stock" and JIT certified with many of their customers.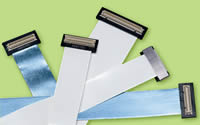 Meritec has over 175,000 square feet of manufacturing space, in the following locations:
Painesville, OH - Engineering, Manufacturing, Tooling, Sales and Administration
Pittsfield, PA - Tooling
Ft. Myers, FL - Development and Test
Chico, CA - Joy Signal Technology - Engineering, Manufacturing, Sales, and Administration
Meritec, along with its west coast affiliate, Joy Signal Technology, designs and manufactures a complete line of high-performance electronic interconnects.
Supplier Directory Categories
Meritec is listed in these categories: